Every so often I do a "Storyteller's Review" of a novel, which is a look at a novel from the craft side to see how it deals with the all-important opening page/chapter, and how well it achieves the requirements that I feel are vital for a successful story:
• Tension
• Story questions
• Voice
• Clarity
• Scene setting
• Character

---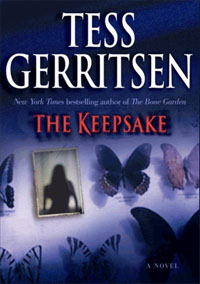 Gerritsen got me from the git-go
As readers of my book, Flogging the Quill, Crafting a Novel that Sells, will learn, there's a section on why creating tension in your first sentence is such a good idea -- it gets a reader to the second sentence, and you draw your reader into your story sentence by sentence by sentence. Here's Tess's opener from The Keepsake:

He is coming for me.
Not only was that the first sentence, it was the first paragraph—a stand-alone jolt of tension. It definitely moved me to the second sentence.

I feel it in my bones.
I had to move on to the third . . .

I sniff it in the air, as recognizable as the scent of hot sand and savory spices and the sweat of a hundred men toiling in the sun.
With this serving of imagery, she has introduced exotic new elements that promised, to me, a place I'd never been before. I wasn't disappointed. Tess knows how to open a story.
The first chapter created plenty of tension for me, and ended with this irresistible lure:

I turn and face the evil.
How can you not turn the page?
Story questions I can't illustrate the chapter endings for the rest of the book without being a spoiler, but, for me, Gerritsen showed her talent for crafting story questions—it's like drawing puzzle pieces from a box one at a time and finding that the new one fits with the old one. When you've absorbed that piece, the questions it raises makes you need to find out what the next piece is like, so you reach into the box . . .
Voice Gerritsen has a clear, straightforward, confident voice in her narrative. You always feel that you're in the hands of a pro, and you can trust her to tell you a good story. On the craft side, there's a nice use of another aspect of voice—that of the characters. The first chapter, as you've seen, is first person, and the clear voice of a character. There's only one other first-person chapter—the last one. They bookend the story, successfully, in my view. After the first chapter, we slip into third person narrative from various points of view, and Tess does a good job of flavoring each character's appearance, with each personality reflected in the individual narratives.
Clarity I don't recall a moment where what was happening was not absolutely clear. No, this is a pro that knows how to get the story onto the page with no unsteadiness that takes you out of the flow. Enough said.
Scene setting The scenes were clearly set—but only whenever they needed to be—in a nicely minimalist, experiential way. She gives you enough to let you see the context of what's happening, and frequent flavorings of a character's point of view "personalize" the description to the experience of the character. I didn't find gobs of description that I was tempted to skip.
Character The story revolves around Gerritsen's two primary continuing characters, Detective Jane Rizzoli and medical examiner Dr. Maura Isles. I liked these characters, primarily because we see aspects of their persons and lives aside from hound-like trailing of the mystery's scent, yet it's done without slowing pace or interest. She gives us insights into the other players, too, enough to make them human beings, and yet not so much as to turn the story expressway into a meander down a country lane.
The story Oh, I suppose you want to know more about the story. It starts with a mummy, but not your everyday ancient Egyptian mummy—but that discovery opens a door to one fascinating aspect of the book, a window into the world of archaeology and a particularly sordid part of its underbelly. Rather than reinvent, I'll just quote here from the book jacket flap copy (something we all need to know how to write anyway).

For untold years, the perfectly preserved mummy had lain forgotten in the dusty basement of Boston's Crispin Museum. Now its sudden rediscovery by museum staff is both a major coup and an attention-grabbing mystery. Dubbed "Madam X," the mummy—to all appearances an ancient Egyptian artifact—seems a ghoulish godsend for the financially struggling institution. But medical examiner Maura Isles soon discovers a macabre message hidden within the corpse—horrifying proof that the "centuries-old" relic is instead a modern-day murder victim.

To Maura and Boston homicide detective Jane Rizzoli, the forensic evidence is unmistakable, its implications terrifying. And when the grisly remains of yet another woman are found in the hidden recesses of the museum, it becomes chillingly clear that a maniac is at large—and is now taunting them.

Archaeologist Josephine Pulcillo's blood runs cold when the killer's cryptic missives are discovered, and her darkest dread becomes real when the carefully preserved corpse of yet a third victim is left in her car like a gruesome offering—or perhaps a ghastly promise of what's to come.

The twisted killer's familiarity with post-mortem rituals suggests to Maura and Jane that he may have scientific expertise in common with Josephine. But only Josephine knows that her stalker shares a knowledge even more personally terrifying: details of a dark secret she had thought forever buried.

Now Maura must summon her own dusty knowledge of ancient death traditions to unravel a murderer's twisted endgame. And when Josephine vanishes, Maura and Jane have precious little time to detail the Archaeology Killer before he adds another chilling artifact to his monstrous collection.
In short, I recommend The Keepsake to you as both a fun read and a novel-length example of professional craft.
For what it's worth.
Comments, anyone?
Ray

---
Tips & Subscriptions
Your generosity helps defray the cost of hosting
FtQ
.
---
Public floggings available.
If I can post it here,
send 1st chapter or prologue plus 1st chapter as an attachment (cutting and pasting and reformatting from an email is a time-consuming pain) and I'll critique the first couple of pages.
Please format your submission as specified at the front of this post.
Please include in your email permission to post it on FtQ.
And, optionally, permission to use it as an example in a book if that's okay.
If you're in a hurry, I've done "private floggings," $50 for a first chapter.
If you rewrite while you wait you turn, it's okay with me to update the submission.
© 2009 Ray Rhamey