Here, from the Description section of my book, Flogging the Quill, Crafting a Novel that Sells. is the second chapter, "Color narrative to characterize"
---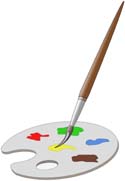 What a character says, thinks, and does is guided by personality, needs, perceptions, abilities and limitations. Of course. But I believe a writer should take that principle a level deeper: even expository narration should reflect the character's personality, should be colored by the character's persona in a way that creates a distinct voice in your reader's ear. That portion of the story should read as if the character has composed the narrative, not the author. Done well, once a reader is introduced to a character she will recognize a character's narrative even if the character is not named. Each character is a different color on your narrative pallet.
The key to doing this was brought home to me when a critique partner said, about a novel in progress that she was helping with, "I love the change of vocabulary accompanying the change in POV [point of view]." She referred to the word choices in the exposition part of the narrative, and had put her finger on the root technique for flavoring in a way that I hadn't thought of. It's the words, stupid.
How many popular novels fail to do this? I see them; don't you? While dialogue may differ (often not by much), exposition is flat and non-differentiated. But it could be different. I say it should be.
Here's an example of coloring a narrative from a suspense novel that takes place in the old West. When it shifts from one point of view to another, so does the voice of the narrative.
Wood thunked on wood and Zach whirled, his finger tightening against the trigger. In the doorway to the spare room stood a boy of about ten. A boy propped on a crutch, his left leg hanging limp. A boy with Tom's long, serious face, his sandy hair, and his hazel eyes, eyes that fastened on Zach's. They widened. "Father?"

Zach turned to the woman. "Where's Tom Duval?"

She swayed and braced herself with a hand on the window sill. She stared at him.

He had to have an answer. "Who are you?"

She lifted her chin and leveled golden eyes at him.

"His widow."

* * *


Amber felt him lookin' at her. Like all men did.

Except for the fancy city suit, he was the spittin' image of Tom. Same stocky body, strong-looking, the hazel eyes with arching brows that made his gaze seem like it was coming after her.

Why in hell did he have to show up? A few more days and she'd have been out of this inferno.
Here are the narratives about two characters in a speculative thriller.
A tiresome clump of a half-dozen gang jerks swaggered toward Jake with cocky menace and semi-automatic pistols visible. They blocked most of the sidewalk, forcing people to step off the curb or sidle along a building front. Jake locked his gaze onto the eyes of the guy in the center and walked straight at him.

The kid kept his cool as they came together, but one stride from colliding he dropped his gaze and sidestepped. Jake cut through, never slowing.

He focused on what he knew of the Attorney General. He'd heard from his old contacts in Justice that she was honest and devoted to the law, and that she hated the under-the-table deal-making of politics. He had too, at one time.

* * *


Two punks, slouching against a gun shop window, smacked kisses at Jewel. A green stripe ran down the center of the blond's buzz-cut hair. A red do-rag decorated the smaller guy's shaved head—he cupped his balls and licked his lips. Ugh. She picked up her pace, her mini-skirt riding high.

They pushed off from the store and swung into step on each side of her. Green-Stripe edged close. "Hey, Brown Sugar."

"I'm not your sugar." Keeping her gaze straight ahead, she said, "There's a cop back there."

"Yeah." He laughed. "Murphy."

His sour stink hit her. Her skin goose-bumped. Wishing she wasn't wearing high heels, she broke into a run.
Color narrative with the same vocabulary and style as a character's dialogue and you'll increase your odds of delivering the character's experience directly to your reader. Each character's turn on the stage will resonate as a person, not just a puppet you've trotted out to roll the plot wheel.
For what it's worth
Ray
© 2010 Ray Rhamey