---
The Flogometer challenge: can you craft a first page that compels me to turn to the next page? Caveat: Please keep in mind that this is entirely subjective.
Note: all the Flogometer posts are here.
What's a first page in publishingland? In a properly formatted novel manuscript (double-spaced, 1-inch margins, 12-point type, etc.) there should be about 16 or 17 lines on the first page (first pages of chapters/prologues start about 1/3 of the way down the page). Directions for submissions are below.
Some homework. Before sending your novel's opening, you might want to read these two FtQ posts: Story as River and Kitty-cats in Action. That'll tell you where I'm coming from, and might prompt a little rethinking of your narrative.
Storytelling Checklist
Tension
Story questions
Voice
Clarity
Scene setting
Character
---
Jamie's opening page from The Opposite of Magic: :
Emily stared at the gargoyle, mystified and a bit amused. She'd never seen one indoors before. In a basement, no less. Eyes bulging, mouth gaping, hands rending its face, the small statue looked not only horrible but also reproachful, as if it knew she felt sorry for herself and its definition of misfortune did not match up with hers. It crouched beside the arched door at the bottom of the stairwell, above which -- she now noticed -- was taped a message straight from Dante's Inferno: "Abandon all hope, ye who enter here."

Good God, nobody was going to visit her during office hours. Shaking her head, she opened the door, anticipating cardboard cutouts of tortured sinners.

Instead, an empty passageway made entirely of stone stretched ahead, deeply shadowed. Bare-bulb fixtures clung to the ceiling, casting small islands of light. Torch brackets -- empty ones -- dotted the walls. Even for a Gothic Revival building, it was over the top.

"This isn't a basement," she said, appalled. "It's a dungeon."

"Isn't it great?" a male voice called out, startling her so thoroughly she dropped her bag. The man popped out of a connecting corridor and strode over with hand outstretched. "Bernie Ballantine, medieval lit. You must be the history department castoff."

"I'm afraid so," she said, wondering if the professor -- who looked to be about sixty -- was colorblind or had donned a neon-yellow fedora on purpose. "Emily Daggett." With sympathy (snip)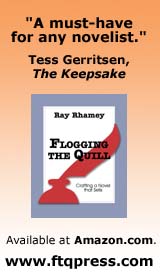 Despite many qualities…
…I didn't find this narrative to be compelling. Interesting, yes. Nice, professional voice and high-quality writing, yes. Interesting character, yes. But, for me, the "what's happening" didn't contain enough tension to provoke a "what happens next" response. A woman arrives at an unusual place and is greeted warmly. So?
The rest of the chapter, until the last page or so, included equally charming writing and interesting stuff—but no more tension. Jamie does a fine job of establishing the character, the setting, and much more. Odd things happen, but nothing to create jeopardy for Emily. Until the end.
I've taken the liberty of cobbling together a 17-line first page from material in the chapter. Jamie will no doubt think that we need to know all the things that went before this, but I don't think we need to up front. Much of the exposition (if needed at all), can be filled in within the context of what happens next. I urge Jamie to try starting with the following opening and see what happens. I guarantee it will be a good learning exercise, if nothing else.
Here are my suggested opening and a poll.
Emily Daggett liked to think she was clear-sighted about her faults. Excessive curiosity, for instance. Now, though, rummaging through her new office for a makeshift weapon should she need to defend herself, she realized she had missed a flaw. She'd grown up, earned her degrees and landed a university teaching job, but she had never overcome the childish desire for adventure. Well, flaw or not, this was the closest life had come to providing an adventure. Grasping a three-hole punch because its name sounded dangerous, she set off to search the basement of the Humanities Building for the intruder.

An empty stone passageway stretched ahead, deeply shadowed. Bare-bulb fixtures clung to the ceiling, casting small islands of light. Empty torch brackets dotted the walls.

One corridor after another proved empty, save for a lecture room filled by age-browned boxes heavy with dust. She picked her way around the entire level and found nobody. But she had definitely heard a thud.

Then she noticed a nearly invisible door -- made of the same stone as the wall, it was set apart only by a tiny doorknob. The knob was warm to the touch, smooth as glass, faintly vibrating under her fingers. She yanked on it and the door burst open to reveal a cavernous room.

Someone was inside. Someone wearing a wide-brimmed hat.

And hovering twenty feet above the floor.
Comments, please?
For what it's worth.
Ray
Tweet
---

Submitting to the Flogometer:
Email the following in an attachment (.doc, .docx, or .rtf preferred):
your title
your 1st chapter or prologue plus 1st chapter
Please format with double spacing, 12-point font Times New Roman font, 1-inch margins.
Please include in your email permission to post it on FtQ.
And, optionally, permission to use it as an example in a book if that's okay.
If you're in a hurry, I've done "private floggings," $50 for a first chapter.
If you rewrite while you wait you turn, it's okay with me to update the submission.
© 2010 Ray Rhamey