Here, from the Storytelling section of my book, Flogging the Quill, Crafting a Novel that Sells. is " You have to go beyond strong writing"
---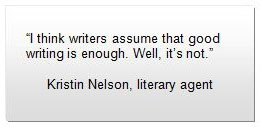 Story is the thing, but not just any old story told in an ordinary way. You need something that somehow takes you to a place you never thought about going. The phrase "fresh and original" is hackneyed, but those are the criteria a new author needs to break in.
Here's what Kristin Nelson, literary agent, said in her blog.
I've been reading a lot of fulls lately and it occurred to me that there are a lot of strong writers out there—writers with enough talent to break into publishing but the current manuscripts I'm reviewing probably won't be the ones to open the door.

I think writers assume that good writing is enough. Well, it's not. You have to couple good writing with an original storyline—something that will stand out as fresh and original. A story never told in this way before (even if elements are similar to what is already out on the market).
Case in point: when I was in Hollywood working on screenwriting, I got good at writing screenplays. Agents and others gave me feedback that let me know I had mastered the form.
I acquired an agent, and my scripts had all the elements: good dialogue; good action; good tension; good descriptions.
I was frustrated when nothing sold, but then I realized what I didn't have: a story strong enough to make someone invest a couple of years and millions of dollars into making a movie about it.
I was story impaired. This is not to say that they weren't good, interesting stories. They were. But they didn't take you to places you'd never dreamed of in particularly dramatic or special ways.
The television series we watch can get away with stories that reek of familiarity because they're free to us. You don't have to invest much in a TV series story. But a book—you pay hard cash, and then spend all that time reading.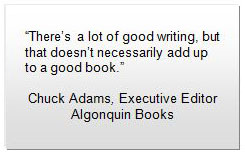 The agent you're hoping to hook up with wants a story that will not let her put the book down. I told you about the agent who rejected my manuscript because she could put it down. That was a story problem, not a writing problem.
Harsh reality. When you submit a partial or full manuscript to an agent, you're asking her to invest her most valuable resource—her time. Think of a story as having cash value. You need to buy her time, and you'd better be ready to ante up some serious story value.
The same goes with acquiring editors at publishing houses. Your submission is asking them to spend:
Time—of which they don't have enough.
Credibility—they have to sell your book to a committee, and then to the sales guys.
Money—they've got to ask the company to spend thousands on getting your book to market.
All these people know that their target audiences want one thing—story.
Be tough on yourself and ask the hard question: Is my story unique enough. . .strong enough. . .fresh enough. . .?
I look at my novels and, to be honest, don't think some will rise far enough above the sea of submissions to snare a contract.
But then there's one that revolves around my unique take on the vampire legend. Since it concerns vampires, let's tune in to Kristin again.
Recently, I had the pleasure of reading three full paranormal novels featuring Vampires. All three were really well written. Had interesting characters that were developed. And even had interesting twists to the Vampire plot to make it unique.

Sounds good, right? So what happened?

The scenes the writers chose to create (in order to unveil the plot) were almost identical in each novel. I literally could have taken scenes out of one novel and plopped them into another and it wouldn't have impacted the story much.
I wasn't worried about my story until she listed some of the repetitive elements in the three novels. Her list starts with:
1. The backstory of how the vampire was made in the first place.
Dang. My novel starts with my hero being turned into a vampire. On the other hand, at least it's not backstory, it's the inciting incident.
Heh-heh, but the fresh thing is that the hero/narrator is a kitty-cat. Will that meet Kristin's criteria of "A story never told in this way before (even if elements are similar to what is already out on the market)"?
A couple more from her list:
2. Opening scene where the two main protagonists (usually male and female) are enemies but somehow must break through the barrier to work together. This usually involves a violent, confrontational scene to jumpstart the narrative. This scene usually happens in a dark place.

3. The main protagonists are being chased or must travel in order to accomplish what must be done. This is usually done in a car and there are motel/hotel scenes.
Sounds pretty mundane when she abstracts scenes like that, doesn't it? My story doesn't exactly follow that pattern—except for the violence and the darkness (hey, they're vampires), and the car (but it's a hearse!)—so I feel I can hope that this will escape the curse of "oh, that again."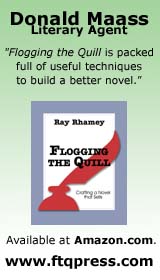 But I'm sure going to think about it. Can I make those scenes more unique? Hmmmm. . .
This reminds me of a lesson from somewhere along the line that had to do with screenwriting, but it applies equally well to a novel. Let's say you want to write a scene in which two people tell each other they love one another.
Imagine that scene set in a lovely restaurant, with great service by the waiter, music in the background, etc.
Pardon the yawn.
Now imagine the same scene at the side of a freeway while the pair scrambles to change a flat tire as cars race past. Maybe even a drive-by shot rings out. Don't you think the emotions, the dialogue, the action will be much more riveting?
For what it's worth
Ray
© 2010 Ray Rhamey
Tweet