---
The Flogometer challenge: can you craft a first page that compels me to turn to the next page? Caveat: Please keep in mind that this is entirely subjective.
Note: all the Flogometer posts are here.
What's a first page in publishingland? In a properly formatted novel manuscript (double-spaced, 1-inch margins, 12-point type, etc.) there should be about 16 or 17 lines on the first page (first pages of chapters/prologues start about 1/3 of the way down the page). Directions for submissions are below.
Some homework. Before sending your novel's opening, you might want to read these two FtQ posts: Story as River and Kitty-cats in Action. That'll tell you where I'm coming from, and might prompt a little rethinking of your narrative.
Storytelling Checklist
Tension
Story questions
Voice
Clarity
Scene setting
Character
---
Kelley has resubmitted her The Alignment, this time with a prologue and a first chapter. The prologue begins this way: :
As soon as he steps down from his truck, I know today is the day. Yesterday was wrong, and I'm glad I waited. The dirt covering him from head to toe tells of a long day of physical labor. The slump of his shoulders proves it. The brown paper bag doing little to mask the bottle of alcohol he grips by the neck makes me chuckle out loud. Fatigue and alcohol. Today is my lucky day.

He plods into the house, and I change my position to gain a better view. I need that alcohol in his system before I make my move. The more the better. From behind the house, I see the kitchen light blink on. It's a beacon from his wide open window, calling me in. We know he's bold, but I refuse to acknowledge his careless indifference. He must fear us. He has to.

The first glass goes down quickly. To my satisfaction, he fills it a second time. He's slower to consume the second glass, but I can be patient. All who came before me must have been missing this key ingredient. Patience. And they are all dead because of it.

The moon rises while I wait, reducing my cover of darkness. When every light in the house has been off for a while, I move in. A wolf howls nearby, and I pause. It takes a long time for the stillness to return, but once it does, I continue my approach. The sliding glass door is unlocked. Without a need to pick a lock, this feels like cheating. My flesh tingles under my gun, (snip)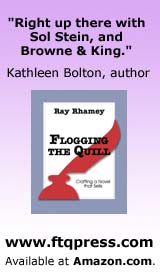 The first chapter opens this way:
blockquote>Starting over. That was the whole point of this, right? Then what is this paralyzing grip pulling me backward, back to my empty house in the only city I've ever called home? With each mile of pavement under the tires, the sensation grows inside me like the mountains rising on the horizon. What began as a slight nag has now become full-blown anxiety and alarm so intense I'm starting to feel nauseous.
My mind seemed at ease for most of the drive, and I clearly remember feeling a shred of optimism as I watched the Chicago skyline disappear from my rear-view mirror a few days ago. I couldn't have imagined the only positive emotion I've had in such a long time. Why the apprehension now? I hoped that putting physical distance between myself and my old life would free me from at least a portion of my torment, from some of the weight pressing down on me every day. I know better than to think I can live happily again, but is just a tiny bit of relief too much to ask?
My stomach twirls in an answer, and I reach to the glove box for an antacid. The door swings down, throwing a tiny disposable diaper to the floorboard. Dull pain throbs against my eyes. Tires throw gravel, and I straighten up to jerk the wheel just in time.
I don't know how many miles have passed before I realize I bit my lip hard enough to draw blood that hasn't yet stopped running. Without taking my eyes from the road, I grope until I (snip)
A yes and yes.
The prologue is definitely a gripper—caution to Kelley, though: the narrator of the prologue is killed in the end, and I'm not sure that's a good way to draw a reader in. As agent Nathan Bransford says, prologues make a reader start a book twice. That's especially true if the character you've just introduced dies.
The chapter opening does have strong voice and a sort of angsty tension. I'd like more story, though -- I wish it were a little more clear as to why she's fleeing Chicago, and I'm not sure we need the rhetorical questions. The tiny diaper is an excellent hint, but more would be good. I suggest trimming the interior probing a little—in this case, a little goes a long way—and hooking into more story elements. Where is she going? How important is it for her to successfully start over (the stakes in the story)? Very nice writing, Kelley.
Comments, please?
For what it's worth.
Ray
Tweet
---
Submitting to the Flogometer:
Email
the following
in an attachment
(.doc, .docx, or .rtf preferred):
your title
your 1st chapter or prologue plus 1st chapter
Please format with double spacing, 12-point font Times New Roman font, 1-inch margins.
Please include in your email permission to post it on FtQ.
And, optionally, permission to use it as an example in a book if that's okay.
If you're in a hurry, I've done "private floggings," $50 for a first chapter.
If you rewrite while you wait you turn, it's okay with me to update the submission.
© 2010 Ray Rhamey