---
The Flogometer challenge: can you craft a first page that compels me to turn to the next page? Caveat: Please keep in mind that this is entirely subjective.
Note: all the Flogometer posts are here.
What's a first page in publishingland? In a properly formatted novel manuscript (double-spaced, 1-inch margins, 12-point type, etc.) there should be about 16 or 17 lines on the first page (first pages of chapters/prologues start about 1/3 of the way down the page). Directions for submissions are below.
Some homework. Before sending your novel's opening, you might want to read these two FtQ posts: Story as River and Kitty-cats in Action. That'll tell you where I'm coming from, and might prompt a little rethinking of your narrative.
Storytelling Checklist
Tension
Story questions
Voice
Clarity
Scene setting
Character
---
Jennifer has come back with a prologue and first chapter. Her prologue opening page for
As the machines that were keeping her father alive were shut off, Anna held his hand. There was nothing now that could be done except wait and watch his ever slowing chest rise and fall so tenderly under the sheets. It had taken years to get here, the cancer taking what it wanted when it wanted with nothing anyone could do. The cruel disease had played its hide and seek with them for nearly a decade, offering glimpses of hope only to take them away again.

Anna was used to feeling helpless and hopeless by now. Watching the invincible, the indestructible Adam McCarthy crumble into the withered husk lying motionless under the hospital's blanket seemed more than impossible. It was in every sense of the word horrific. Anna did this alone. A year ago at the age of sixteen she quit school to care for him full time as they got by on his disability checks and what little savings Adam had left. She, too, had aged with him. Now at seventeen, Anna was an emancipated adult. Something they had decided upon when he could no longer work or walk or reach or eat or bathe on his own. Nurses became her connection to the outside world. His primary care doctor had become the grandfather she never had. He was near to retirement and his end in medicine would coincide with the end of this man before her, this man very much the opposite of who he was a year ago.

And now, watching the life slowly take its leave and his eyes fade in and out of focus as (snip)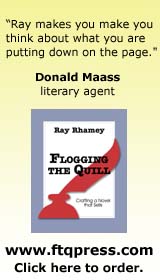 And now the first chapter opening:
The nurse Lisa came over and gently touched Anna on the shoulder. Lisa had been there for them every day of the past six months. She had the kindest smile and quickest wit. She would often stay way after her shift was over, sitting by Adam's bed playing cards with him or reading to him his favorite passages from the Bible. She was always cooking them dinner and packing up the leftovers so Anna would have "a decent lunch in this house of take-out." A healer, she was a natural healer of the soul and the closest thing to a mother that Anna had ever known.

"Anna, do you have anyone I should call? Your dad's friend Paul maybe? Someone from his church?"

"No. I'm fine. I want to be alone."

"Isn't there an aunt or an uncle somewhere out there?"

"There is a great aunt and a few cousins out in Wyoming or something. I haven't seen any of them since I was five. There's no one here though, there's just me." Just Anna. She knew it was coming and thought she had planned for it, but now it terrified her. There really is no planning for this.

"Do you want me to drive you home? You shouldn't be home alone now. Let me take you, okay? You should go home and rest. Its been a long… well… a long journey hasn't it?" The tears slid slowly from Lisa's cheeks. She looked almost as tired as Anna felt. She was not the (snip)
Didn't get me there
For me, even though there's a sympathetic character dealing with what has to be a tragedy in her young life, there wasn't much of a hint of what the story was about or much in the way of tension. There are craft things to work on as well—overuse of adverbs and a few grammatical and punctuation glitches, but those can be cured.
In skimming the chapter, two strong story hooks appeared in the midst of a ton of backstory and exposition—the character has some sort of effect on plants—they respond to her presence, even lean toward her, and grow for her in an unnaturally vigorous way (an ability that had frightened her father for reasons she doesn't know) and that she has just inherited property worth millions but doesn't know that, either.
Jennifer, I suggest you look for a way to start with those elements. The death of her father, I don't think, is the inciting incident of this story. Think about starting the story later, after he is gone and she's dealing with life afterwards. How does her ability with plants figure in to what happens to her? What surprises or problems does the property bring? The story of her father's death, while touching, isn't the story, and, for me, wasn't engaging.
Comments, please?
For what it's worth.
Ray
Tweet
---

Submitting to the Flogometer:
Email the following in an attachment (.doc, .docx, or .rtf preferred):
your title
your 1st chapter or prologue plus 1st chapter
Please format with double spacing, 12-point font Times New Roman font, 1-inch margins.
Please include in your email permission to post it on FtQ.
And, optionally, permission to use it as an example in a book if that's okay.
If you're in a hurry, I've done "private floggings," $50 for a first chapter.
If you rewrite while you wait you turn, it's okay with me to update the submission.
© 2010 Ray Rhamey