---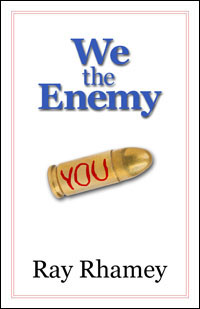 I received some very helpful comments and a thought-freeing design suggestion with the last try at a cover design and back cover blurb for my novel, We the Enemy, so I thought I'd ask again with a new and different approach. Forget everything you read before, please, and take a look. The cover design's goal is to get you to check out the back cover, and the blurb is aimed at getting a reader to look at the first page inside—not to buy the book, just to open it.
There's a multiple-choice poll below, and comments are especially helpful, so please leave one if you have an opinion. Here's the copy from the back cover:
---
It could be that, not too many years from now ...

The very nature of criminal justice and self defense is changing in the Pacific Northwest—criminals compelled to tell the truth in court, guns converted to nonlethal weapons.

The president aims to capitalize on a wave of opposition and win votes by taking down the man behind it all, Noah Stone. The president's weapon is Jake Black, an ex Secret Service agent.

Devastated by the killing of his wife and little girl, Jake lives an emotionless existence as a cold-blooded gun for hire. Taking care of Stone nets him a million dollars and that's all that matters. A ground fog of numbness in his mind smothers everything else—especially the grief he cannot bear.

He goes undercover to get close to Stone and finds a decent man who leads people to better lives—but then a treacherous attack threatens to destroy the hope Stone fosters.

Jake is the one man who can keep that hope alive, but only if he betrays his mission—and if he can find his way to feeling again.

---
Thank you for your help. Here's hoping the trolls stay under the bridge this time.
Ray
© 2010 Ray Rhamey
Tweet