---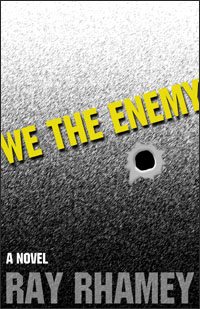 Last week, Tamara, a web designer, sent a cover design idea that I liked a lot--Thank you, Tamara! It featured a photo of a man's face, and I'm not convinced that I want to show that.
However, it inspired the version you see here. I think that, on a bookshelf the cover has two goals:
1. to catch your eye
2. to get you to check out the back cover
That's it—catch the eye, turn book over. Please give your input via the poll below and with comments.
But what about blurbs?
Often there are blurbs on the front cover to help with engaging your interest, and I don't have any yet, not yet having created or sent advance review copies, but I'd like to know how the following quotes from real beta readers would influence your level of interest. How about doing that poll, too?
A woman read this novel and said, "I wish this world you've created existed."

A man read this novel and said, "Enjoy the ride. It's worth taking."

A college student said, "A lot to think about, a lot to hope for."
Would you please vote on the poll and give any comments you have? Many thanks.
Once again, many thanks for your help.
Ray
Tweet
© 2010 Ray Rhamey