---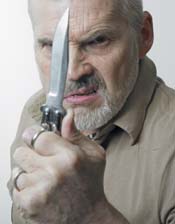 Here, from the Storytelling section of my book, Flogging the Quill, Crafting a Novel that Sells. is " Create a really good bad guy."
I'm bringing Vladimir back to illustrate creating a "good" antagonist. By that I mean a strong, interesting, and maybe even likeable character. Through the insights of an editor who critiqued one of my novels, I became aware of the need, and realized how to do it. Here's what we know of good old Vlad:
Vladimir's blade sliced open Johnson's throat. The child-killer toppled, hands clutching his neck. Vladimir watched him writhe, and then become still. The bittersweet taste of vengeance filled Vladimir, and he smiled.
He has killed, but for a good reason—maybe. At this point, Vladimir could be the protagonist or the antagonist, although a reader is likely to be rooting for anyone who kills a child-killer. In this initial ambiguity lies a key to creating a good bad guy. We'll return to Vladimir later to resolve the ambiguity with more of the narrative.
My first novel, as initially written, wasn't all that good. But it contains themes I care about, and the core of a good story. Being a persistent fellow, I've rewritten it at least a half-dozen times. An agent represented it for a time, but it never sold. So I determined that, by damn, I'd publish it myself. I'm working on that as I write this book.
Faced with the prospect of strangers looking at my book with a critical eye, and asking them to spend money for it, I wanted to make sure that it was as good as it could be. I needed fresh eyes. Highly professional fresh eyes. So I, an editor, hired an editor, Lou Aronica, the aforementioned editor and publisher of bestsellers for a couple of top publishing imprints.
His critique exposed shortcomings in both character and plot, and he gave me guidance for lifting the novel to a truly publishable level. One problem was a primary antagonist. Lou said he wasn't strong enough or smart enough to be an interesting character, and I finally understood that he was right.
I wrote this book five novels ago as of this writing, and I'll admit that the bad guys were created just to be bad, just to attack the good guys. I didn't like the bad guys, and I didn't want my readers to like them either. So all of their characteristics are unlikeable—they are weak, corrupt, greedy, cowardly, dishonest, arrogant, and not all that bright.
Cartoony, to be honest, but I couldn't see that then. So there I was, faced with what to do with this cartoonishly nasty, inept, cowardly guy.
How do you make a guy you really don't like appealing?
An "aha" experience arrives
Finally it hit me. I needed to treat the antagonist like a protagonist. After all, he's the protagonist in his story, right? He believes in what he does, and that he's doing the right thing. It doesn't matter that I disagree with him or that the things he will do are evil. What matters is that for him they are the right thing to do, and that his cause is just.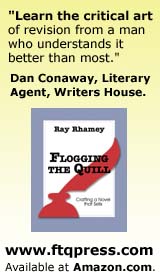 We're all like that, aren't we? Even when we do something we know is wrong, we do it anyway because, at that moment in our lives, it's the right thing to do. Think of that last piece of chocolate cake you knew you shouldn't eat. . .
Bad guys don't think of themselves as bad guys. They're the heroes. So a narrative that intimates this person is bad and what he's doing is nefarious isn't true to character. And it's character that makes a novel interesting and convincing.
Take Vladimir. He seems to have excellent motivation for brutally killing a man. He clearly believes that it's the right thing to do. Since the victim had killed a child, we may even be on his side, emotionally.
But what if it develops that his victim is a doctor who has performed legal abortions that Vladimir opposes? Or perhaps, less controversial, a surgeon whose child patient died in surgery though no fault of his own? And this is the fifth physician Vladimir has killed? So now good old Vlad is a serial killer, and a very sick puppy.
I'm sure I had read advice on thinking about an antagonist as the star of his own story, but I had never internalized it. Once this epiphany finally hit—and I imagine that for many of you this is old hat—I started thinking again about how to portray my good/bad guy. The way the narrative delivers what he thinks and does shouldn't signal that he or his actions are evil, because, to him, they're not. And if the reader starts out feeling some empathy for this guy and his goals, then the arc of his story will be bigger and more dramatic.
Also, the smarter and stronger my bad guy is, the stronger the conflict, and the stronger my protagonist will be when he finally wins. Greater conflict! Bigger stakes! More tension!
The point is, once I viewed the world from inside his (now smarter) head, even my word choices changed. The way he reacts to people and events in his world changed. From his viewpoint, I was able to see my good guy as a bad guy.
Holy schizophrenia!
I must confess that it's difficult to shift the narrative and exposition—the word choices—from painting a picture of a nasty guy to one of someone who isn't, as far as we can tell. But that kind of ambiguity helps create a character with depth. By the way, it's also a good tactic to create unlikeable aspects for your good guys to create richer characters.
Here is the how the new version of my antagonist is introduced.
Kurt Dengler aimed his grandfather's Colt .45 automatic at Noah Stone's photo and cocked the hammer.

Stone smiled up at the Colt's muzzle from a Time magazine cover; the headline read, "Pied Piper of the West."

Kurt squeezed the trigger, the firing pin clicked on the empty chamber, and there was no hole in the enemy's forehead.

Like Daddy used to say, if wishes were horses, beggars would ride.

Kurt used his cell phone to call the number only he, the First Lady, and the Secret Service had. The president's deep voice said, "Hey, Kurt."

"We need to talk about a problem that needs to go away, Mr. President."

Leo chuckled. "You're my chief of staff, why don't you see if you can work you in?"
Not in the Oval Office, not with all those microphones. "Remember when we were kids, talkin' about running away?"

"Got it. The garden. Now's good."

Kurt hung the .45 on its pegs at the bottom of his grandfather's plaque. Beneath a Bronze Star medal, a brass plate read, "Major Jefferson T. Dengler." His grandfather hadn't made it home from World War II, but his heroism and his sidearm had. Kurt used his tie to polish away a fingerprint, snatched up the Time and the new polls, and left his West Wing office for the Rose Garden.
Events, Kurt's passion for the kind of country he thinks is right, his love for the president, and, of course, weaknesses, cause this character to orchestrate events that lead to the assassination of a good man. But at this point, you don't know that, do you? With his clear respect and affection for his grandfather's memory, he's even likeable.
He's a good bad guy.
For what it's worth
Ray
© 2010 Ray Rhamey