---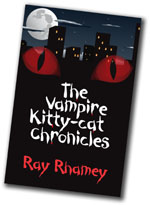 A new review from Amazon.com
Not your ordinary vampire novel
This book was given to me by a friend and I held off reading it for quite a while because I am dead-sick of this whole "wouldn't it be cool to have superpowers or be so special I could attract one who does and then have a creepy romance with the undead?" vampire craze. Turns out, though, that this hilarious romp is not so much about vampirism as it is about (a) cat-think, (b) political satire (c) how power corrupts and (d) interspecies love. Ray Rhamey definitely speaks very good cat language, and he's got the background to qualify: check out the dedication to all the cats he has known and loved.

Rhamey knows vampires as well, and has come up with some excellent new twists that I'll bet the makers of True Blood wish they'd thought of. "DeathSavers," for instance -- a blood flavor of LifeSavers for vampires having a low-blood attack.

This book is full of wry humor, and yet somehow strangely believable. I would highly recommend it, even -- in fact, especially -- to people who would otherwise pass it up because they have no interest in the subject.
For what it's worth
RR
© 2010 Ray Rhamey