---
I'm still wrestling with how to present my novel, We the Enemy. Below are a new cover design and back cover blurb. How about taking a look and telling me what you think about whether or not it would get a reader to look at the first page?
Thanks. There's a multiple-choice poll below, but comments are especially helpful, so please leave one if you have an opinion.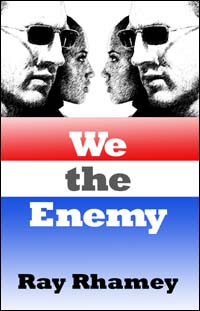 Not long from today . . .

Devastated by the killing of his wife and little girl, Jake Black lives an emotionless existence, abandoning his Secret Service career to become a cold-blooded mercenary. When the president, desperate for gun-owner votes, decides to take down the leader of a movement to eliminate guns in Oregon, Jake is his weapon.

Jewel Washington, a single mother, struggles to protect her little girl from drugs and violence in the projects of Chicago—and is losing the fight. The first time she encounters Jake he saves her from rape. The second, she sends him to a hellhole prison. The third time changes their lives.

The man in Jake's crosshairs offers hope for better lives for Jewel and her daughter. Once in Oregon, a good life seems to be theirs—and then a murderous attack threatens to destroy the movement and the promise it brings.

Its survival lies with the man sent to stop it. Jake has a chance to restore his life—if he can care again.