---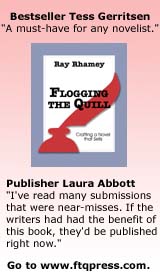 Here's chapter 2 from my book,
Flogging the Quill, Crafting a Novel that Sells.
. I think this chapter epitomizes what agent Donald Maass said about my book: "Ray makes you think about what you are putting down on the page."
Are you writing for effect?
If you want me to turn your pages,
here's the effect I want your writing to have on me—I want it to trigger in me the sights and sounds and smells of what's happening. I don't want approximations, I want that
reality.
I want to experience the story, not just learn about what happens. And I want it to be effortless—I should be able to react without having to stop and think about the stimuli you put on a piece of paper. (That is not to say that good writing doesn't give you something to think about.)
Writing for effect is the core principle underlying my approach to creating an irresistible fiction narrative that immerses a reader in the experience of the story.
It's the lens through which I critique narrative in an edit and strive to view my own writing.
It's the objective that informs the coaching on storytelling, dialogue, description, and technique in this book.
It's knowing how to show and when to tell. It's why adverbs are often weak writing—and sometimes not.
It is the guiding light that can show you the way to a stronger story, and the searchlight that can illuminate shortcomings in your manuscript.
Failure to write for effect is why too many writers, especially beginning novelists, do little more than put information on the page and end up with little more than a report with a plot.
In storytelling, you're not writing to inform the reader—you deliver information, of course, but that's not the purpose—you're writing to affect the reader. To craft narrative that creates an effect in the reader's mind—the experience of the story.
Stimulus/response
Maybe it's the psychology major in me, but I can't help but think of the stimulus/response paradigm. Pavlov taught dogs to expect food when he rang a bell, and thereafter the dogs salivated at the sound of that bell.
You, the writer, produce a stimulus. The reader provides the response, imagining a scene or an action or an emotion. Actually, there's a reader element involved that a writer can't address—the reader's personal filters and baggage. A dog not trained to associate feeding with a bell won't salivate at the sound of one. For readers, as an elementary example, the word "cat" has a different effect on a cat lover than it does on a cat hater. You can't control that, but you can still load your narrative gun with the best possible ammo.
In practice, the workings of stimulus/response aren't simple, but they are the keys to writing for effect, and understanding that can open the door to successful storytelling.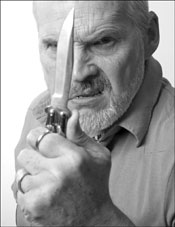 You begin a story with a single stimulus—a word. Here's one now:
Vladimir's
Most words can't do much by themselves, so you string more words into a sentence that forms a different stimulus.
Vladimir's blade cut Johnson's throat, and Vladimir smiled.
Change one or two words, and the effect is different.
Vladimir's blade sliced open Johnson's throat, and Vladimir smiled.
To my mind, sliced open is far more evocative than cut.
Another part of the effect here is to characterize Vladimir—for some reason, he enjoyed slicing open a man's throat. And this sentence raises story questions: Why did he slice the throat, and why did he smile? All that from just one sentence of nine words.
Although we're writing for effect, and the accumulating stimuli produce a dramatic portrayal of what's happening, it doesn't yet reach the level of delivering the experience of the story. The experience comes through the character.
Vladimir is the point-of-view character, but this narrative is objective so far, a camera's view. Novels provide a unique way to create an experience—showing what's happening in a character's mind.
Vladimir's blade sliced open Johnson's throat. The child-killer toppled, hands clutching his neck. Vladimir watched him writhe, and then become still. The bittersweet taste of vengeance filled Vladimir, and he smiled.
Your sentences accrue and, done well, coalesce into a greater stimulus—the story. The final result, the effect on your reader, begins with the word choices you make and how you put them together.
How you arrange words to affect your reader demands professional techniques aimed at maximizing the power of your narrative to create an experience for your reader. My book digs into techniques that help writers do just that.
For what it's worth.
Ray