---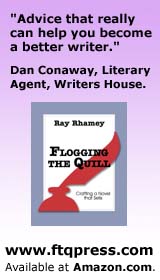 Here's
Story as river
from my book,
Flogging the Quill, Crafting a Novel that Sells.
A tale of two stories
Enticed by blurbs, or perhaps a friend's recommendation, Ima Reader takes a seat in a punt on the shore of a gentle English river. The flat-bottom boat rocks a little, but she feels safe in the hands of Heezan Author, who stands ready at the stern, hands on the long pole used to push the boat. His photo on the back of the book was nice.

Heezan shoves off, and they glide down the river on an easy-going current. Heezan says, "Note the lovely hues of red and gold in the rose garden on the far bank." He steers the bow a few degrees toward the near shore. "And here is where our hero was born, poor tyke, the sad
victim of -- "

Ima peers ahead. "Oh, the hero. I'm so eager to see him."

"Soon enough, soon enough, dear reader. But first, see the ramshackle one-room schoolhouse where Hero first met Heroine, though their meeting was a tussle over who got the swing -- "

Ima turns to Heezan. "Excuse me, sir…"

A sigh. "Yes?"

"Pull over to the bank, please."

"But there's so much story to be told."

The boat clunks against a dock and Ima steps out. "Too late." She gently closes the covers, never to return.
OR…
Feeling the pull of a fetching blurb, Ima Reader turns to page one and drops into a river raft. It races downstream, toward the roar of water churning over rocks. The nose of the raft rounds a bend and ahead spray creates a mist above roiling river water and granite boulders.

Sheezan Author, both hands with strangle holds on the rudder at the rear, shouts, "I don't want to alarm you, but there are crocodiles between us and the end."

Ima grips a page. She feels her lips stretch in a grin of anticipation when she leans forward and says, "Let 'er rip!"
What if Ima Reader is an agent to whom you've just submitted a sample, opening her eleventy-eleventh submission that week?
Or an acquisition editor at a publishing firm who wonders why in hell he agreed to look at your manuscript?
Or a bookstore browser deciding on what to buy for a weekend read (and your book is in that narrow window of only a few weeks to catch hold and create an audience)? These people turn to page one looking for one thing.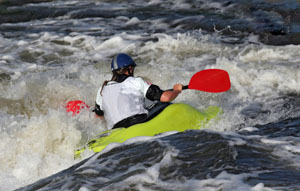 To be swept away.
And effortlessly,too. After all, the agent's tired, it's been a hard week, she's looked at dozens of crappy novels, and it's an act of will to tackle another one. The editor feels a migraine coming on, and the bookstore browser just had her transmission go out. Please, capture my mind and imagination and take me away from all this.
But how does a story do that? The story river readers want to ride races down mountain slopes, hurtles around sharp bends to reveal unexpected events, plunges into canyons and out again until a killer waterfall comes into view. Then it sweeps them over, they plunge and crash into the maelstrom of the story's climax, and then emerge into calm waters, safe and satisfied.
But how does an author sweep a reader along? The reader isn't in a craft pulled by a rope, nor propelled by oars or a motor. Instead, her imagination becomes one with the flow of the river.
What determines the nature of that flow? What lack makes it an easy-going stream, what element makes it a roller-coaster ride?
For a river, gravity furnishes the power, a passive power with inevitable pull. Where does the power of a story come from?
The gap
Screenwriter/story guru Robert McKee has a terrific way of thinking about what powers a story. Years back, I attended one of his intensive seminars on screenwriting, and I wish now I'd been ready to understand everything he had to offer. A brilliant screenwriter and story thinker, McKee nails what creates the ever-increasing rush of current in a story. In his book, Story, he calls it the "gap." While he writes primarily about screenwriting, he does talk about novels, and his insights are all about story, no matter what the form. Here's a diagram from his book that illustrates the gap.
A character has an object of desire. That could be a treasure, a job, a person, catching a killer, anything. He takes action -- risky action -- to get it…but he doesn't succeed because of inner, personal, or external conflict. A gap opens between the character and his goal.
But he still wants what he wants—or, better, needs what he needs. So he takes a second action, one with greater risk. But again he is frustrated, and must try again. McKee says each effort should involve more risk, each time there should be more for the character to lose. Causes of the gap—the thing that stymies the protagonist -- can even be things that seem pleasant, even the achievement of a similar goal… but underneath, like the current in the river, there's still that need that isn't satisfied.
So look at your story, especially the opening. Are you poling your reader down a lazy river, talking amiably about scenery and backstory? Or about to run the rapids only seconds after she boards?
The rapids don't, of course, have to be physical, as in an adventure story. They can be caused by internal conflict. They can be emotional, or interpersonal, or…hey, whatever your imagination desires.
A river is not all rapids
Your story river needs the tension of rapids and crocodiles to keep compelling readers forward, but keep in mind that a river, just as a story, needs eddies and calm pools, too. Without them, the traveler can be exhausted. Without them, the story cannot gather its energy for another run. Moments of calm serve to create more tension if your story has let the reader know—through your use of the gap—that all is not yet well.
But your river must still MOVE! When I write scenes and chapters in my novel in progress, I don't apply McKee's gap technique before writing. But my sense of that underlying mechanism is becoming more and more ingrained in me, more of the rudder that steers my characters deeper and deeper into complications.
Use the gap to give first aid to your story
The "the gap" can be a terrific diagnostic tool. If your story feels lazy, or sags somewhere along the line, looking at what is (and isn't) happening -- does the character desire something, does she strive for it, is she blocked and forced to try again, to try something new and at greater risk? Use "the gap" to help you restore irresistible pull to the river of your story.
For what it's worth
RR
Tweet
© 2010 Ray Rhamey