Update: at the end of this update I'm providing a link to the rest of the chapter for those who wanted to turn the page. Those who said no can, if they wish, see what they missed.
The feedback has been interesting, and it's fascinating to see what readers pick on, often things that a first page would have trouble addressing. For example, some wondered why a vampire would worry about dying, or why a vampire kitty would be worried about a coyote. The answer to the first lies in the "world" of this story, where the mythical vampire "rules" that everyone "knows" don't apply. As to why he would worry, it seemed to me that ending up as an undigested undead lump in a coyote's stomach is a pretty clear cause for concern, and worth worrying about--if it's not for you, that's okay, but a story has to follow its internal logic.
For the rest of the chapter, go here.  Comments welcome. If you're fresh to this post, please read the opening below and give your input. Thanks.
---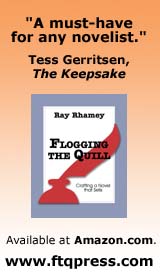 I'm going to butt into the line and ask you to flog the first chapter of my WIP. In the process, I'm going to change the submission request for other writers—please include your titles with the opening prologue/chapter.
It occurs to me that just about any potential reader for your manuscript or book will see the title, and that can help the reader with expectations. So this submission includes the title. In my case, this is a sequel, as you'll see. If you have a submission in the queue, please email me a title to use.
Regarding comments: I hope you'll take the time to leave one, especially if you elected to not turn the page. What will be most helpful to me (and all writers who submit here) is not the textual nitpicking that sometimes happens here (not that that's not helpful as well), but the instant emotional response, the "why not" that you feel after the first quick read, just as you would have with a book in a bookstore. Thanks.
---
Storytelling Checklist
Before you rip into today's submission, consider this list of 6 vital storytelling ingredients from my book, Flogging the Quill, Crafting a Novel that Sells. While it's not a requirement that all of these elements must be on the first page, they can be, and I think you have the best chance of hooking a reader if they are.
Evaluate the submission—and your own first page—in terms of whether or not it includes each of these ingredients, and how well it executes them. The one vital ingredient not listed is professional-caliber writing because that is a must for every page, a given.
Tension
Story questions
Voice
Clarity
Scene setting
Character

---
Title: The Hollywood Unmurders
(The Vampire Kitty-cat Chronicles):
The opening page:
I knew that if the coyote ate me he would end up with a terminal case of indigestion, which is what you deserve if you chew on a vampire kitty-cat chock full of the vampire virus, but by then I wouldn't be in any condition to say gotcha. Although being undead wasn't much of a life, I preferred holding on to what little I had.

If it had been a dog instead of a coyote, I wouldn't have worried—who worries about a creature that has devoted eons of evolution to mastering the arts of tail-wagging and drooling? But this guy was from a long line of finely tuned hunter-killers. And the word around Los Angeles was that coyotes had never met a cat they didn't like.

Crouched behind a scrub oak underneath the H in the HOLLYWOOD sign, I hadn't heard any movement from the direction of the O where I'd spotted him—and he'd caught sight of me. The scrub oak, barely three feet tall and about that wide, was more bush than tree, and no barrier to a determined coyote. The full moon I'd been enjoying now felt like a spotlight. I slunk low and peered beneath a branch. He wasn't beneath the O anymore.

Uh-oh.

What would being chewed up do to my undead self? How much could he swallow before the virus turned him into a vampire coyote? Would I be an indigestible lump in his belly, giving "hairball" a whole new meaning? Creepy. Not to mention disgusting.
Thanks, guys.
Comments, please?
For what it's worth.
Ray

---
Submitting to the Flogometer:
Email the following in an attachment (.doc, .docx, or .rtf preferred):
your title
your 1st chapter or prologue plus 1st chapter
Please format with double spacing, 12-point font Times New Roman font, 1-inch margins.
Please include in your email permission to post it on FtQ.
And, optionally, permission to use it as an example in a book if that's okay.
If you're in a hurry, I've done "private floggings," $50 for a first chapter.
If you rewrite while you wait you turn, it's okay with me to update the submission.
© 2010 Ray Rhamey