---
The Flogometer challenge:
can you craft a first page that
compels
me to turn to the next page?
Caveat:
Please keep in mind that this is entirely subjective.
Note: all the Flogometer
posts are here
.
What's a first page in publishingland? In a properly formatted novel manuscript (double-spaced, 1-inch margins, 12-point type, etc.) there should be about 16 or 17 lines on the first page (first pages of chapters/prologues start about 1/3 of the way down the page). Directions for submissions are below.
Some homework. Before sending your novel's opening, you might want to read these two FtQ posts: Story as River and Kitty-cats in Action. That'll tell you where I'm coming from, and might prompt a little rethinking of your narrative.
Storytelling Checklist
Before you rip into today's submission, consider this list of 6 vital storytelling ingredients from my book, Flogging the Quill, Crafting a Novel that Sells. While it's not a requirement that all of these elements must be on the first page, they can be, and I think you have the best chance of hooking a reader if they are.
Evaluate the submission—and your own first page—in terms of whether or not it includes each of these ingredients, and how well it executes them. The one vital ingredient not listed is professional-caliber writing because that is a must for every page, a given.
Tension
Story questions
Voice
Clarity
Scene setting
Character

---
Greg has sent two openings to his novel, wondering if one is better than the other. Here's the first:
Jeff stopped pacing and glanced around the class of 8th graders, "In 1923 the British climber, George Mallory, was asked why he wanted to climb Mount Everest. His reply? 'Because it's there.' And in 1953 Sir Edmund Hillary finally reached the summit of Everest – because it's there." He paused to give that thought a little time to sink in. "By the way, when Hillary came down from that climb, the first man he met was his friend and fellow climber, George Lowe. Hillary said to Lowe, 'Well George, we knocked the bastard off.'"

The class snickered and giggled at his use of the quasi-profanity.

"So, why would we want to explore another planet? Daniel?"

Daniel smiled and thought for a moment, then blurted out, "To knock the bastard off!"

The class howled with laughter and Jeff smiled. "There you go; exploration, discovery, and man's indomitable spirit and curiosity. We go because it's there. In 1962 President John Kennedy said, 'We choose to go to the Moon in this decade and do the other things, not because they are easy, but because they are hard.' And go to the moon we did, just seven years later; July 21st, 1969, Apollo 11, Neil Armstrong stepped on to the surface of the moon. We had the choice, we made the choice, and we did it. That was 43 years ago. So, all you budding young astronauts and astronomers and aerospace engineers, why has mankind not set foot on Mars?"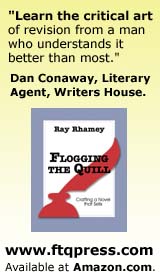 The alternative opening:

Jeff left the lottery office and stood by his car in the parking lot. He felt lost and confused, and in desperate need of talking to someone, anyone. Seeing no one around, he started talking to himself. "Alright, I have $335 million in my bank account, which is right about $335 million more than was in it when I got up this morning. So, what now? What do you do with a third of a billion dollars?" He had to think, and a parking lot in Santa Ana probably wasn't the best place for it. Jeff got in his car and drove to Forest Lawn Memorial Park, strolled down the path to a familiar spot, sat down on the lawn at the foot of the grave and stared at the marker.

Marsha Marie Grey
August 14, 1964
November 4, 2009

"Hey babe, been keeping up with current events? Wow, what a day. I'll tell you, somebody sure has a cruel sense of irony, that's for sure. All the money in the world and too late to do anything for you." Jeff closed his eyes and bowed his head. "Any idea what I should do now? I could sure use your help, honey, because I have no clue."
A no-brainer for me
If you look a the checklist above and then the first opening, for me two key ingredients were missing, the most important ones: tension and story questions. What a student would answer to his question was not riveting. This one gets a zero on the Flogometer.
In the second opening, we're getting what the story is about right off the top, a big story question—how is this going to affect his life—plus background information that makes him a sympathetic character. The one change I'd make would be to make the relationship more clear by simply including Jeff's last name—if it's Grey, that is. There's also a little "telling" in that opening paragraph—show us his lostness and confusion, don't tell us.
Comments, please?
For what it's worth.
Ray

---
Submitting to the Flogometer:
Email your 1st chapter or prologue plus 1st chapter as an attachment (.doc or .rtf preferred, .docx okay) and I'll critique the first page.
Please format with double spacing, 12-point font Times New Roman font, 1-inch margins.
Please include in your email permission to post it on FtQ.
And, optionally, permission to use it as an example in a book if that's okay.
If you're in a hurry, I've done "private floggings," $50 for a first chapter.
If you rewrite while you wait you turn, it's okay with me to update the submission.
© 2010 Ray Rhamey