---
The Flogometer challenge:
can you craft a first page that
compels
me to turn to the next page?
Caveat:
Please keep in mind that this is entirely subjective.
Note: all the Flogometer
posts are here
.
What's a first page in publishingland? In a properly formatted novel manuscript (double-spaced, 1-inch margins, 12-point type, etc.) there should be about 16 or 17 lines on the first page (first pages of chapters/prologues start about 1/3 of the way down the page). Directions for submissions are below.
Some homework. Before sending your novel's opening, you might want to read these two FtQ posts: Story as River and Kitty-cats in Action. That'll tell you where I'm coming from, and might prompt a little rethinking of your narrative.
Storytelling Checklist
Before you rip into today's submission, consider this list of 6 vital storytelling ingredients from my book, Flogging the Quill, Crafting a Novel that Sells. While it's not a requirement that all of these elements must be on the first page, they can be, and I think you have the best chance of hooking a reader if they are.
Evaluate the submission—and your own first page—in terms of whether or not it includes each of these ingredients, and how well it executes them. The one vital ingredient not listed is professional-caliber writing because that is a must for every page, a given.
Tension
Story questions
Voice
Clarity
Scene setting
Character

---
Stella's opening lines:
Spare time was a mortal sin to be avoided at all costs. I was even running errands for old Mrs. Beaton next door to keep busy. Keeping busy meant keeping my sanity.

I grabbed my backpack off the floor, tossed in a water bottle and a clean towel. The rigged apartment door slammed shut behind me. I glanced at my watch. If I ran the whole way I could still make it.

I took the stairs two at a time, running out the main entrance. I held the door open for little Mrs. Beaton as she entered. The 'little' part only referred to her height not her waistline. Time had shrunken her vertically, but had stashed the extra inches in her horizontally. This only made her more endearing.

Wrinkles creased her eyes as she smiled at me. "Thank you, Mia." She said in her timorous voice. "But eat something, you're wasting away. How are you going to find a man? You're too skinny!" She waved a plump hand at me.

Finding a man was the last thing on my mind, but it was always on Mrs. Beaton's. I'd spent the better part of four years around a flock of sex-deprived Marines. Thinking of men was like a day in the sun with a Drill Instructor, painful.

I ran up the hills of San Francisco following the direction of my morning jogs. What still (snip)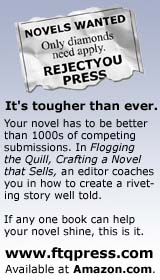 There's great stuff ahead, but…
I really liked the voice and the writing in this chapter, but the opening here didn't compel me into a page turn. There's a hint of a story question in the first paragraph, but that's not followed up on. Then the narrative seems to focus on getting a man, which makes it seem like a romance novel. From what I read in the rest of the submission, it's not, at all.
For several pages more, high-quality writing laid out backstory and other exposition, plus internal monologue, that characterized this person and let us know where she's coming from. But still no real tension. In other words, well-done throat-clearing.
A lot of that material could be filled in later, after the encounter that leads to a big change in the character's life. Instead of this opening, I suggest that Stella consider the following, which comes from later in the chapter, instead.
I was almost at the dojo when a cry and flash of movement in an alley caught my eye. I ran into the entrance of the alley to see three guys kicking something on the ground.

I was going to be really late.

The one in the hoodie said, "Hey, check out the thing in his hand."

The man on the ground pleaded. "Please! Don't hurt me!" The three men kicked him again.

One of them wrenched the object from the man's hand. "Hey I think it's an MP3 player."

His body snapped back with the impact of my kick. His head flew backward over his feet. The backside of his melon thumped against the concrete, he laid still.

One of them yelled, "Bitch!" The other rushed me. He swung at my head.

I dodged out of his way and grabbed his wrist, pulling his shoulder over mine. Using his own momentum I sent him flying. He fell to the concrete with a thud and screamed, a broken tailbone perhaps.

Karma's a bitch.

The last of the Three Stooges pulled out a knife.

"Come on, baby. We don't need to fight when we can have some fun." He leered.

"It's hard to believe you beat a hundred thousand other sperm." I pulled my pack off and dropped it. "Get lost."
Comments, please?
For what it's worth.
Ray

---
Submitting to the Flogometer:
Email your 1st chapter or prologue plus 1st chapter as an attachment (.doc or .rtf preferred, .docx okay) and I'll critique the first page.
Please format with double spacing, 12-point font Times New Roman font, 1-inch margins.
Please include in your email permission to post it on FtQ.
And, optionally, permission to use it as an example in a book if that's okay.
If you're in a hurry, I've done "private floggings," $50 for a first chapter.
If you rewrite while you wait you turn, it's okay with me to update the submission.
© 2010 Ray Rhamey