---
The Flogometer challenge:
can you craft a first page that
compels
me to turn to the next page?
Caveat:
Please keep in mind that this is entirely subjective.
Note: all the Flogometer
posts are here
.
What's a first page in publishingland? In a properly formatted novel manuscript (double-spaced, 1-inch margins, 12-point type, etc.) there should be about 16 or 17 lines on the first page (first pages of chapters/prologues start about 1/3 of the way down the page). Directions for submissions are below.
Some homework. Before sending your novel's opening, you might want to read these two FtQ posts: Story as River and Kitty-cats in Action. That'll tell you where I'm coming from, and might prompt a little rethinking of your narrative.
Storytelling Checklist
Before you rip into today's submission, consider this list of 6 vital storytelling ingredients from my book, Flogging the Quill, Crafting a Novel that Sells. While it's not a requirement that all of these elements must be on the first page, they can be, and I think you have the best chance of hooking a reader if they are.
Evaluate the submission—and your own first page—in terms of whether or not it includes each of these ingredients, and how well it executes them. The one vital ingredient not listed is professional-caliber writing because that is a must for every page, a given.
Tension
Story questions
Voice
Clarity
Scene setting
Character

---
Pauline has sent a prologue and first chapter. This is the entire prologue:
The electricity hums through her fingers and up her arms until her teeth clench and eyeballs rattle. Laura blacks out and wakes feeling weak. The sin might not be completely out just yet though. It might take a few tries.

Oh God. Oh Richard. I don't know how to stop this. Dear Lord, please help me! Please! I'll do anything, I swear. Just...not Hayley, please not my baby!

Laura scrubs at the black marks on the wall where the toaster plugs in. She blew a fuse too so now Richard's going to have to fix it. She'd done her best to recreate the therapy she'd learned about at the library this morning. The fact that this could fix her gives her hope.
The first chapter opens this way:
Laura nods as Jenny pulls out her mother's wedding dress from the dress up trunk. Playing house is her very favorite. They'd been playing it all summer. Laura never minds being the daddy because this means she gets to give Jenny a good night kiss.

'Oh daddy, baby Christopher's cryin' again. You go and get him this time. I got to put my feet up.'

Laura goes over to the playpen. They get to have a real baby when they play at Jenny's house because they look after her brother while her mama is doing her nails on the porch. Christopher doesn't like it when they put doll clothes on him. Laura figures it's because he doesn't like wearing dresses. She doesn't like dresses either. She struggles to lift him up but manages to lug him over to where Jenny's sitting on the couch with her feet on the trunk.

'Here, you take him. I'm gonna read the paper.' She takes the coloring books and flips through the pages just like she's seen her daddy do with the Saturday newspaper. Sitting up extra straight, she brushes her long, sandy blonde hair from her face and wishes her mother had put it in a ponytail for her.

It's too hot to play outside. Summers were hot back in Iowa too but it's different here in Texas.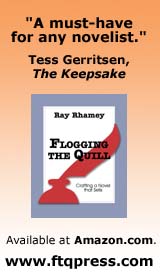 Almost, and no
The prologue made me want more of that story, but then it ended, which was frustrating. The first chapter is a trip back in time to the protagonist's childhood when she is first called a sinner because of her feelings and actions toward girls. In other words, backstory. Is it necessary? In most cases, probably not. This prologue seems like an attempt to hook the reader enough to then go through the history. Not a good idea.
Readers want to know what's happening in the NOW of a story, not the THEN. If I were Pauline, I'd keep going with whatever it is that happens next in what was the prologue. The childhood stuff doesn't really matter to the adult who is trying to shock her sinfulness out of her body.
Comments, please?
For what it's worth.
Ray

---
Submitting to the Flogometer:
Email your 1st chapter or prologue plus 1st chapter as an attachment (.doc or .rtf preferred, .docx okay) and I'll critique the first page.
Please format with double spacing, 12-point font Times New Roman font, 1-inch margins.
Please include in your email permission to post it on FtQ.
And, optionally, permission to use it as an example in a book if that's okay.
If you're in a hurry, I've done "private floggings," $50 for a first chapter.
If you rewrite while you wait you turn, it's okay with me to update the submission.
© 2010 Ray Rhamey