---
A sample of
The Vampire Kitty-cat Chronicles
is
here.
You can order a paperback or e-book copy there, too.
---
The Flogometer challenge:
can you craft a first page that
compels
me to turn to the next page?
Caveat:
Please keep in mind that this is entirely subjective.
Note: all the Flogometer
posts are here
.
What's a first page in publishingland? In a properly formatted novel manuscript (double-spaced, 1-inch margins, 12-point type, etc.) there should be about 16 lines on the first page (first pages of chapters/prologues start about 1/3 of the way down the page). Directions for submissions are below.
Some homework. Before sending your novel's opening, you might want to read these two FtQ posts: Story as River and Kitty-cats in Action. That'll tell you where I'm coming from, and might prompt a little rethinking of your narrative.

---
Greg's prologue's opening lines:
Thursday, August 14, 2036
"Yes, hello. I'm trying to register online but your form won't accept my information."
"That's odd. Just a moment and I'll see if I can help."
Margarita sighed. Odd? No, actually it's not.
"Alright, name?"
"Margarita Concordia Grey."
"Home address?"
"293 South Holliston Avenue, #241, Pasadena, California 91106"
"Phone?"
"626-555-1212"
"Date of birth?"
"July 28, 2017"
"Place of birth?"
Margarita grimaced. Here we go. "Grey Station, Margaritifer Basin, Mars."
There was a long pause on the other end of the phone line. "Excuse me?"
"Mars. The planet. I'm Margarita Grey. You know? The Martian?"
The line went dead.
Margarita slammed her cell phone on the desk. "Crap! I hate my parents."
And now the first chapter's opening lines:
Wednesday, March 27, 1991

Jeff came to and, as he lay in the sand collecting his thoughts, concluded he was alive. That was the good news. But opening his eyes to find nothing but utter blackness was not encouraging. Crap, this can't be good. He gingerly wiggled his fingers and toes. They worked and, so far as he could tell, were all present and accounted for. He started to rise but the searing pain in his back prompted him to reconsider.

The last thing he remembered was seeing the wire running to the corrugated sheet metal that Gar was pulling off the wellhead. "STOP!" he'd yelled, but too late. A bright flash, concussion like he'd been hit by a runaway train; and here he was.

"Gar? You alive?" he called out, but got no response.

Jeff gingerly rolled on his side and, much to his relief, noticed a light in the distance. He squinted, trying to get his eyes to focus. Flames. A burning wellhead. He pushed up on an elbow and looked around. There were other fires here and there, and it was night. He looked at his watch, just past nine; he'd been unconscious for almost five hours.

Smoke from hundreds of fires surrounding them in the Kuwait desert made for a night blacker than the oil they burned. Jeff began inching around, trying to locate Petty Officer Garland "Gar" Stewart. Feeling around in the sand he finally came upon a boot, and sincerely (snip)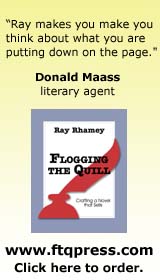 They both worked for me
I had empathy for the character in the prologue, dealing with "help" online. Even though there was no actual conflict or tension, the last two lines (I included 17 lines, which you can certainly do) raised excellent story questions. The first chapter opened with a strong immediate scene and good writing (I'd ditch the adverb, though).
However, I wonder about the need for the prologue. Since it occurs in the far future, and concerns a character we don't see in the "present" that the first chapter presents (it transitions to a future date in the middle), couldn't this prologue info wait until the character is introduced? I suggest considering opening with the first chapter. Actually, since it goes from past to future, maybe part of it is a prologue.
Comments, please?
For what it's worth.
Ray

---
Submitting to the Flogometer:
Email your 1st chapter or prologue plus 1st chapter as an attachment (.doc or .rtf preferred, .docx okay) and I'll critique the first page.
Please format with double spacing, 12-point font Times New Roman font, 1-inch margins.
Please include in your email permission to post it on FtQ.
And, optionally, permission to use it as an example in a book if that's okay.
If you're in a hurry, I've done "private floggings," $50 for a first chapter.
If you rewrite while you wait you turn, it's okay with me to update the submission.
© 2010 Ray Rhamey