---
Call for flogging submissions
I'm about to run out of submissions to the Flogometer. If you'd like a critique of your novel's opening—prologue or first chapter or both—please email as an attachment according to the guidelines at the end of this post.
---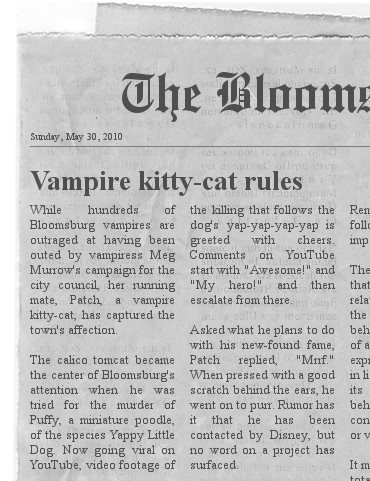 Just having some fun with a newspaper "clipping" generator courtesy of Paperback Writer's blog. This could be a clipping from the world of my novel, The Vampire Kitty-cat Chronicles.
---
The Flogometer challenge:
can you craft a first page that
compels
me to turn to the next page?
Caveat:
Please keep in mind that this is entirely subjective.
Note: all the Flogometer
posts are here
.
What's a first page in publishingland? In a properly formatted novel manuscript (double-spaced, 1-inch margins, 12-point type, etc.) there should be about 16 lines on the first page (first pages of chapters/prologues start about 1/3 of the way down the page). Directions for submissions are below.
Some homework. Before sending your novel's opening, you might want to read these two FtQ posts: Story as River and Kitty-cats in Action. That'll tell you where I'm coming from, and might prompt a little rethinking of your narrative.

---
Greg's opening lines:
"Sorry, Abby, it's Nikolayev."

Abby shook her head and sighed. "You flew all the way down here just to tell me that? What's the matter, Eric, don't they have phones in New York?"

"I thought you should get the news in person."

"Why? What difference does it make?" She rubbed her forehead trying to suppress the oncoming headache. "How'd we vote?"

Eric grimaced. "Well, it's complicated."

"Eric, you're a weasel."

He chuckled. "You knew that when you divorced me."

"Yeah. Wish I'd known it before I married you. Does anyone on the U.N. Space Committee think it the least bit ironic that Sergei Nikolayev, the new Director of the International Space Agency, can't even fly a fucking airplane?"

"Like I said, Abby, it's complicated."

"Bullshit. I'm a gruff old pilot that drinks too much and he's a slick politician who sometimes masquerades as an engineer."

Eric shrugged. "What are you gonna do now?"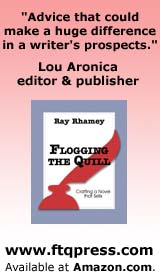 Where's the tension?
Lots of good things going on with this opening—I liked the voice, it's an immediate scene, and the writing is strong and clean. Once caveat on the scene: opening with nothing but dialogue is risky, and it would be better if there were at least a little bit of scene-setting woven in.
But the real problem is no story questions with enough juice to make me wonder what's going to happen next. Abby seems like a fun and likeable character, but this is nothing more than somebody reporting on the results of some kind of election that we know nothing about. And this was followed in the chapter by lots of very well-written backstory and introduction to the world of the novel.
Because the writing is strong, rather than pick at nits, I looked further in the narrative to see if I could find material that was closer to compelling. That's below, followed by another poll. Greg, if you compare this with the original, you'll see that there's been some trimming done. All that backstory you can weave in. One other note: she gets a fax. In the world of the future, do you think faxing would still be around? Here's an alternative opening, taken from the first chapter about 4 pages into the narrative.
Abby removed a turkey from the fridge. Since that first Thanksgiving on Mars when Jeff had pulled one, frozen in liquid nitrogen, out of a transport container – the first non-rehydrated food they had had in over eight months that, almost inconceivably, Gabe had managed to cook to perfection in the convection oven – Abby had looked upon a cold turkey sandwich as about the next best thing to sex. As she carved thin slices of breast meat, almost inevitably, the doorbell rang.

Shit, it never failed. She flipped on the porch light and saw two 'suits' standing there. Ah, what now?

"Yes? May I help you?"

One of the men flashed credentials. "Special Agent Gardner, Interpol. And this is Special Agent Roush. Ms. Nolan, may we have a word with you?"

Abby frowned. "It's Admiral Nolan, and what can I do for you?"

"My apologies, Admiral. May we come in?"

She didn't mind the police, and the FBI was okay. Even CIA or NSA would be welcome. But Abby did not care for Interpol. The International Criminal Police Organization was, in theory, simply an information exchange. But it had evolved into something, in Abby's opinion, sinister.
Comments, please?
For what it's worth.
Ray

---
Submitting to the Flogometer:
Email your 1st chapter or prologue plus 1st chapter as an attachment (.doc or .rtf preferred, .docx okay) and I'll critique the first page.
Please format with double spacing, 12-point font Times New Roman font, 1-inch margins.
Please include in your email permission to post it on FtQ.
And, optionally, permission to use it as an example in a book if that's okay.
If you're in a hurry, I've done "private floggings," $50 for a first chapter.
If you rewrite while you wait you turn, it's okay with me to update the submission.
© 2010 Ray Rhamey