---
Update: taking the day off today. Have a great holiday!
---
You can start the
The Vampire Kitty-cat Chronicles
podcast series or subscribe to it
here
or on
iTunes
. A sample of the novel is
here.
You can order a paperback or e-book copy there, too.
---
Call for flogging submissions
I'm about to run out of submissions to the Flogometer. If you'd like a critique of your novel's opening—prologue or first chapter or both—please email as an attachment according to the guidelines at the end of this post.
---
The Flogometer challenge: can you craft a first page that compels me to turn to the next page? Caveat: Please keep in mind that this is entirely subjective.
Note: all the Flogometer
posts are here
.
What's a first page in publishingland? In a properly formatted novel manuscript (double-spaced, 1-inch margins, 12-point type, etc.) there should be about 16 lines on the first page (first pages of chapters/prologues start about 1/3 of the way down the page). Directions for submissions are below.
Some homework. Before sending your novel's opening, you might want to read these two FtQ posts: Story as River and Kitty-cats in Action. That'll tell you where I'm coming from, and might prompt a little rethinking of your narrative.

---
Ashley's opening lines:
"What you in for?"

If she had asked Thomas that same question four years ago, he would have told her that he was following a trail. He had told so many young waitresses in late-night city dives that he was "following a trail" that he suspected it was bad luck. Instead he shrugged and said, "Some potato soup," indicating the brightly-decorated specials board with a tilt of his head. The girl sauntered into the kitchen without writing anything.

Thomas hauled his bag up onto the counter, putting it between himself and a queasy-looking guy three seats down. He pulled out a battered old notebook -- personal documentation of four years of wrong turns. Missed opportunities. Wasted time.

It was full.

His mother would still be proud, of course; she had always said that success wasn't everything. He was still ashamed. That was his father living on in his psyche.

"Any coffee?" The girl was smiling down at him, leaning forward just far enough to peek into his notebook. For a moment Thomas considered hiding it, but was instead mildly entranced by a hint of cleavage. "You a writer or something?"

Thomas shook his head and closed the notebook. "Are you from around here?"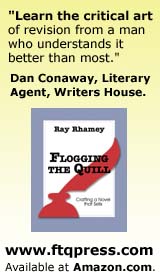 Close, but . . .
I liked the writing and the voice a lot, and Ashley is opening with an immediate scene, which I also like. But, for me, it adds up to well done throat-clearing. I do like the hints of internal conflict we see in Thomas, but for me it wasn't strong enough to compel a page turn.
In a way, some of the narrative is self-defeating. For example, the opening paragraph seems to suggest that "following a trail" was just a story he told to waitresses, when in actuality that is what he's doing. We don't know that finding something or someone is important to him, or the stakes involved.
Because the writing is clean, I looked ahead in the narrative for a point where I felt the narrative was more compelling, and there was more of an idea of a story to be heard. Let's see how this works for you—Ashley, I've taken liberties and cut a lot to get more of a hook on the first page. This is meant as a thought-starter for raising stronger story questions and enough mystery to provoke a turn. Thomas's backstory and musings can be added later.
Thomas ignored the scent of the alley—a medley of beer and dumpsters and old pepperoni—and strode to a rickety set of metal stairs leading up to a small landing and a door.

He reached up to knock; his hand was barely there when the door swung back. Holding it open was a frowning boy about as tall as the middle of Thomas' stomach, a mop of shaggy hair falling over his eyebrows. Thomas would have frowned back, but that was when he noticed the boy's eyes. The boy's completely unfocused eyes.

"She said you'd be here," the boy said.

"Excuse me?"

"Come in. Madam is ready."

"You've got to be joking."

The boy turned back into the apartment. Thomas followed him down a hallway. A door stood ajar at the end. He went in, expecting to find candles, bad incense—the kind of things infomercial mystics used to convince desperate housewives. Instead, there was just a single hanging bulb illuminating a bed in one corner, an armchair in another, and a tall pine box. He looked around, shrugged, and turned to leave. Another dead end on the trail to find his lost --

A voice like a grandmother who had smoked for decades came from the pine box. "You're in the (snip)
Ashley, your writing is fine, and it seems like there's an interesting story here. But the conversation you had with the other guy in the parlor didn't seem to advance the story (it was just more exposition). Try starting later in the story and fill in the notebook, his feelings, etc. as he encounters this woman and the others I the place. Good luck.
Comments, please?
For what it's worth.
Ray

---
Submitting to the Flogometer:
Email your 1st chapter or prologue plus 1st chapter as an attachment (.doc or .rtf preferred, .docx okay) and I'll critique the first page.
Please format with double spacing, 12-point font Times New Roman font, 1-inch margins.
Please include in your email permission to post it on FtQ.
And, optionally, permission to use it as an example in a book if that's okay.
If you're in a hurry, I've done "private floggings," $50 for a first chapter.
If you rewrite while you wait you turn, it's okay with me to update the submission.
© 2010 Ray Rhamey