But first . . .
"Just when you think that the vampire genre is pretty much exhausted and headed toward cookie-cutter, assembly line style repetition, along comes Ray Rhamey's "The Vampire Kitty-Cat Chronicles" to shake things up! Patch is a rather undistinguished and ordinary calico tomcat -- until he gets turned into a vampire! Now his 'life' is complicated by mobs with torches, hostile undead, daylight, and perhaps worst of all -- politicians.

"Superbly crafted by Ray Rhamey, who demonstrates and documents himself an inventive and skilled storyteller, "The Vampire Kitty-Cat Chronicles" is enthusiastically recommended for fans of the vampire genre -- and anyone who would enjoy a terrifically original and thoroughly entertaining action/adventure fantasy yarn! Incidentally, it's no accident that Ray Rhamey is also the author of 'Flogging the Quill: Crafting a Novel that Sells.'"

Midwest Book Review.
A sample of The Vampire Kitty-cat Chronicles is here. You can order a paperback or e-book copy there, too.
---
The Flogometer challenge:
can you craft a first page that
compels
me to turn to the next page?
Caveat:
Please keep in mind that this is entirely subjective.
Note: all the Flogometer
posts are here
.
What's a first page in publishingland? In a properly formatted novel manuscript (double-spaced, 1-inch margins, 12-point type, etc.) there should be about 16 lines on the first page (first pages of chapters/prologues start about 1/3 of the way down the page). Directions for submissions are below.
Some homework. Before sending your novel's opening, you might want to read these two FtQ posts: Story as River and Kitty-cats in Action. That'll tell you where I'm coming from, and might prompt a little rethinking of your narrative.

---
Tami is new to this novel-writing thing. Here are her opening lines:
I was a sophomore when it started. Eighth grade ended with the onslaught of puberty, my freshman year wrought with the awkwardness of certain body parts trying to morph from bony and girlish to womanly, and by the time I entered my second year of high school I had curves in, according to the boys, all the right places.

I never intended to let anyone get so physical… Jake just caught me off guard. He was the kind of guy I would fantasize about- the most popular boy in school, a baseball star in the junior class, who would miraculously see me, to whom I'd stand out from a sea of anonymity, and he'd whisk me off my feet and fill my life with joy.

I wasn't the type to pursue anyone for anything, let alone a boy for a relationship, so I was flattered when Jake- Super hot Jake! Interviewed by ESPN when he led the team to the state championship last year! Sought after by popular senior girls! THAT Jake!- plopped himself down at my solitary table in the corner of the library during lunch one day. I don't remember exactly what he said- but I do remember that he was so smooth, caressing me with words pertaining to my beauty, what a special girl I must be, and when he walked away I felt a glow in the pit of my stomach. That was the awakening of the hunger.

A few times a week, Jake would do something- wink at me in the hall, find me at lunch and ask me when I would let him take me out, saunter up to my locker and whisper in my ear that he was (snip)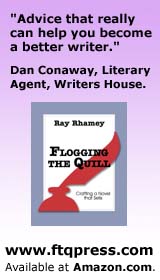 Not there for me
I like the voice, and the writing is clean, but the narrator is telling me stuff that she thinks I need to know when I'd rather be experiencing something that changes her life in significant ways. Rather than do a detailed critique of these lines, I thought it might be more helpful to Tami if I looked deeper into the narrative (only 4 pages) for something that would draw me in. Here's a candidate, at the end of the piece:
When Jake used a key to get into a supply closet and immediately began kissing me, I kissed back. I didn't know what I was doing, but he whispered about the glory of my body in my ear, telling me that he'd dreamed about this moment since the first time he laid eyes on me, and when his hands went up my shirt, he told me my breasts were even more incredible than he'd imagined, and so I did not stop him. When he began to unbutton my pants, he said that no one had ever affected him this way, made him so needy, and so I did not stop him. Instead, when he begged me to need him the way he needed me, I clumsily fumbled with his jeans and when he pulled a condom out of his pocket and wordlessly sought my virginity I freely gave it to him.

Afterward, he zipped up his pants, said something along the lines of, "I hope we can do this again sometime," and left before I could even pull my own pants back up. While in Jake's passionate embrace I felt cloaked in love. When he shut the door, leaving me in the dark, surrounded by glue sticks and rulers, I struggled to grasp the shreds slipping through my fingers.

Filthy girl! Horrible, ugly, disgusting, vile little harlot.>The accusations rang through my head, as clear as if someone were speaking to me aloud, their lips inches from my ear.

I had heard that voice before. I knew it well. It started around the time my dad killed himself.
I would definitely turn this page
I felt sympathy for the girl who was so terribly misused, and strong story questions were raised. Keep at it, Tami, it sounds like you have a story to tell and the writing ability to do it. If you don't mind a commercial message here, I suspect some of the coaching in my book, Flogging the Quill, Crafting a Novel that Sells, could be of help. Perhaps readers who have read it can tell you whether it's worth purchasing or not.
Thanks for sending your work.
Comments, please?
For what it's worth.
Ray

---
Submitting to the Flogometer:
Email your 1st chapter or prologue plus 1st chapter as an attachment (.doc or .rtf preferred, .docx okay) and I'll critique the first page.
Please format with double spacing, 12-point font Times New Roman font, 1-inch margins.
Please include in your email permission to post it on FtQ.
And, optionally, permission to use it as an example in a book if that's okay.
If you're in a hurry, I've done "private floggings," $50 for a first chapter.
If you rewrite while you wait you turn, it's okay with me to update the submission.
© 2010 Ray Rhamey