---
New review
of
The Vampire Kitty-cat Chronicles
by
The Monster Librarian
Patch is your everyday tomcat, with a life any cat would die for. Until he is turned into a vampire, that is. Suddenly, he finds himself in constant peril. He is nearly staked, is being tried for murder, and almost has his tail cut off, all while trying to figure out where his next V1 (that's blood to you non-vampires) will come from and win an election with his associate, Meg. Who says life is easier when you're dead?

Chock full of one-liners, teens that like a horror novel to have a good dose of humour will thoroughly enjoy The Vampire Kitty-Cat Chronicles. It is fast-paced, a quick read, and the characters, especially Patch, are amusing and engaging. This book will appeal to a wide YA audience, as well as many adults. It does, however, contain commentary on controversial topics (such as religious fanaticism) that may offend and thus, may not be suitable for all YA readers. Recommended for public library YA horror collections.
---
The Flogometer challenge:
compels
me to turn to the next page?
Caveat:
Please keep in mind that this is entirely subjective.
Note: all the Flogometer posts are here.
What's a first page in publishingland? In a properly formatted novel manuscript (double-spaced, 1-inch margins, 12-point type, etc.) there should be about 16 lines on the first page (first pages of chapters/prologues start about 1/3 of the way down the page). Directions for submissions are below.
Some homework. Before sending your novel's opening, you might want to read these two FtQ posts: Story as River and Kitty-cats in Action. That'll tell you where I'm coming from, and might prompt a little rethinking of your narrative.

---
Today we compare a prologue and a chapter from a YA novel. While Agent
Kristin Nelson
says that sometimes prologues do work and can be valuable, she also lays out the risk you take with a prologue:
"Almost all the agents I know completely skip the prologue and start with chapter one when reading sample pages."
Margo's prologue's first 16 lines:
A child miseducated is a child lost. - John F. Kennedy

Michael's mother was mad, again. However, as she and Michael left the principal's office, his mother smiled and greeted each person cheerfully as they passed. She carried her handbag in the crook of her right arm while she firmly grasped Michael's ear with her left hand. She pulled him along as she strode out of the office, down the hall, and out the main door of the school. This said a lot for her coordination, considering she was wearing platform shoes and a short tight skirt. Her bleached blond hair glistened in the humid Georgia sunshine, but not a drop of perspiration escaped her tight face.

Luckily, she had found a parking spot right in front of the building – so she wouldn't have to maintain the façade much longer. She released Michael's ear, opened the back door to the sedan, and quickly glanced around the parking lot. There were no onlookers. As Michael bent to get into the car, she slapped him hard alongside his head. "STUPID! How dare you humiliate me."

Michael grabbed his face where the lingering sting caused the blood to throb inside his head. He knew better than to say anything back to her. She slammed his door and gracefully positioned herself in the driver's seat. She adjusted the rearview mirror making momentary eye contact with Michael. He quickly looked away. As she pulled the car out of the parking space (snip)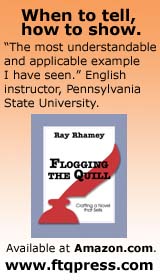 And now the first chapter opening:
Thirty five years later.

"The group consisting of mother, father and child is the main educational agency of mankind." - Rev. Martin Luther King, Jr.

My eyes were swollen. I could tell. Even in the pitch black darkness on that cold November morning, I could tell. The hours spent crying yesterday left my eyelids pink and puffy. I dreaded facing the mirror, let alone the day. I pulled my fluffy down comforter up around my neck and cuddled back in bed for awhile longer but I was haunted by the memories of the previous day. I replayed the words. How could Tim attack me with the things he said?

Dad had tried to console me afterwards by saying, "Cynthia, sweetheart, we love you. That's all that matters. Besides, you can't be interested in boys yet. You're only eleven. You can't even date until you're sixteen. You know the rules."

I sighed and said, "Thanks. Very helpful." Patting me on the back, he turned things over to Mom. At least she acted like she understood my pain. She wrapped her arms around me and whispered, "Boys are dumb. Therefore they say dumb things. The sooner you learn this, the less you will suffer." Maybe she did understand a little bit, but I still wanted a boyfriend. After yesterday, my chances were ruined in that department.
Close on prologue, not on chapter
The story question of what will happen to the boy almost got me there on the prologue, but the point-of-view shift in the second paragraph was a deterrent. The chapter opening might have suffered from me being an adult, it concerning what seems like teen angst about a boy, but to me it wasn't a grabber of a scene. Also, for me, the quotes that took up valuable page space didn't help.
Now consider this: Margo's email said that this story is about a girl who falls prey to an Internet predator. That's a story I'd like to read. But there's really no hint of that in these two openings. I'm guessing that the prologue is a scene from the childhood of the predator. The chapter introduces a girl of 11 (yes, I thought she was a teen too, until I found her age later on). For my money, this story starts too early. I wonder if there's a scene where, with tears on her face from a boy's abusive taunts, the girl logs on and discovers the first Internet post/message that hooks her. That's when she would be most vulnerable, it seems to me. That kind of scene, with the nature of her feelings and the taunt woven in, could do the trick. Seems like there's a really interesting, topical story here, but for me we need to get to it much sooner.
Comments, please?
For what it's worth.
Ray

---
Submitting to the Flogometer:
Email your 1st chapter or prologue plus 1st chapter as an attachment (.doc or .rtf preferred, .docx okay) and I'll critique the first page.
Please format with double spacing, 12-point font Times New Roman font, 1-inch margins.
Please include in your email permission to post it on FtQ.
And, optionally, permission to use it as an example in a book if that's okay.
If you're in a hurry, I've done "private floggings," $50 for a first chapter.
If you rewrite while you wait you turn, it's okay with me to update the submission.
© 2010 Ray Rhamey