---
Google Alerts found this review of
The Vampire Kitty-cat Chronicles
on
BLOG ING
.
"The story is told by Patch, an opinionated and independent-minded feline who insists Ray is only his typist, and who pretty well has life by the tail. Until a starving vampire snags him by the tail and initiates him into the ranks of the undead, that is, and Patch discovers that the vampire's life isn't all it's cracked up to be; in fact, death kind of sucks. But then he gets mixed up in politics, and death starts to get downright dangerous… The pace is fast, there's lots of action, and the humor quotient is pretty high, too; I laughed out loud in several spots, and spent nearly the whole time with a grin and a chuckle never far away. It's lighthearted, but doesn't pull too many punches (the satire bites satisfyingly deep sometimes). All in all, a quick, fresh, and most importantly, fun read."
---
The Flogometer challenge:
compels
me to turn to the next page?
Caveat:
Please keep in mind that this is entirely subjective.
Note: all the Flogometer posts are here.
What's a first page in publishingland? In a properly formatted novel manuscript (double-spaced, 1-inch margins, 12-point type, etc.) there should be about 16 lines on the first page (first pages of chapters/prologues start about 1/3 of the way down the page). Directions for submissions are below.
Some homework. Before sending your novel's opening, you might want to read these two FtQ posts: Story as River and Kitty-cats in Action. That'll tell you where I'm coming from, and might prompt a little rethinking of your narrative.

---
Set in 1988, here are Jan's opening lines:
As the 747 hiccupped through a small pocket of turbulence, Frank Turner's white-knuckled fingers tightened round the armrests in the same vice-like grip he used on the dentist's chair. The cigarette clamped between his teeth was the latest in the chain he'd begun eighteen hours earlier on Liverpool's Lime Street station.

The cloudless blue sky abruptly turned to brown earth as the plane banked sharply for its final landing approach. Frank risked movement to turn and peer impatiently down the aisle. The toilet door remained firmly closed. As his head swung back his cigarette narrowly escaped contact with the crotch of the brisk airhostess who was hurrying the passengers into their safety belts.

"Please extinguish your cigarette and fasten your safety belt, sir," she said, nimbly avoiding the glowing cigarette tip, her bright smile now of a lower wattage after fourteen hours in the air.

Cowed by authority, Frank smiled submissively, but sneaked a few last drags while she strapped in the florid-faced woman in front whose frequent trips to the toilet equated with her having walked the six thousand miles from England to South Africa. He stubbed out his cigarette and fastened his safety belt. The landing was the part he didn't care for. Fraught with tension, anxiety clenched his buttocks, jaw and fists.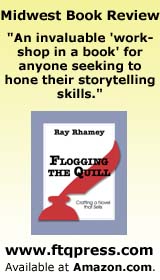 Nice, but no for me
No "what happens next" for me
Despite good writing and a likeable voice—loved the 747 hiccupping through an air pocket—nothing in this narrative made me wonder what would happen next. Mostly because nothing much happens here—that a guy is a nervous flyer is about all there is. The whole first chapter was spent introducing his wife and son, getting the airplane landed, and them through baggage check and customs in Durban, South Africa. In other words, throat-clearing. I suggest that Jan find another starting point for the story. The locale would be fun to learn about. But watch out for the head-hopping—sudden shifts of point of view to another character in mid-narrative -- that I saw in later pages.
Comments, please?
For what it's worth.
Ray

---
Submitting to the Flogometer:
Email your 1st chapter or prologue plus 1st chapter as an attachment (.doc or .rtf preferred, .docx okay) and I'll critique the first page.
Please format with double spacing, 12-point font Times New Roman font, 1-inch margins.
Please include in your email permission to post it on FtQ.
And, optionally, permission to use it as an example in a book if that's okay.
If you're in a hurry, I've done "private floggings," $50 for a first chapter.
If you rewrite while you wait you turn, it's okay with me to update the submission.
© 2010 Ray Rhamey