---
The Flogometer challenge:
compels
me to turn to the next page?
Caveat:
Please keep in mind that this is entirely subjective.
Note: all the Flogometer posts are here.
What's a first page in publishingland? In a properly formatted novel manuscript (double-spaced, 1-inch margins, 12-point type, etc.) there should be about 16 lines on the first page (first pages of chapters/prologues start about 1/3 of the way down the page). Directions for submissions are below.
Some homework. Before sending your novel's opening, you might want to read these two FtQ posts: Story as River and Kitty-cats in Action. That'll tell you where I'm coming from, and might prompt a little rethinking of your narrative.

---
Donald's first 16 lines:
Quercus, a tweeded figure about forty, stocky with bony, angular joints, bushy hair, black eyebrows and ear tufts, rested on a garden bench beneath an English Oak that shared his name. He wondered, not for the first time, if his mother conceived him there. Perhaps his parents succumbed to their passion on a sunny afternoon similar to this. The thought disintegrated when he remembered his sister, Holly, for his mother, although no less a nature lover than his father, surely did not lie upon prickly Ilex leaves. His brothers tumbled into his mind, first the sweet, younger Acer and then straight, rigid Ulmus, the oldest. Their names Ulmus, Quercus, Holly, and Acer, simply derived from his parents' botanical fancy.

These musings, none new, and the gentle heat generated by digesting his Stilton cheese sandwich, a pear, and a bottle of tea, lulled Quercus into a doze in which his parents' passion for life melded with his own marriage to his dear, dead Violet.

The cold remembrance numbed his heart and bones, awakening him. Billowing clouds scuttled across the sky, obscured the sun, and threatened a shower. He glanced at the cottage in the garden he still tended for Violet. There under the eaves, the bedchamber window revealed open curtains. He recalled entering that room grieving his darling's death, his inability to save or again touch the one he loved; and mourning the unreachable togetherness he had hoped to share (snip)
Voice said yes, tension said no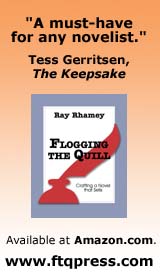 Donald has one of those polished, make-it-look-easy writing styles, a seductive voice that I love to read and have difficulty just setting aside because of the narrative voice. However . . . we're dealing with "compelling" here, not invitingly attractive. The challenge is to create enough tension on the first page that turning it is irresistible. Here, the "cold remembrance" paragraph almost did that for me, with its contrast to the easy, sunny mood of the first paragraphs. Then, with "He recalled," it seemed as if it were heading into backstory (even though it doesn't), and there wasn't enough "what's going to happen next" for this particular reader.
The rest of the chapter ambles on in a similarly mesmerizing way, a long setting of the scene in this character's life and environs. I suspect that for readers of more literary fiction, this would have been sufficient—but I ended the chapter not knowing what the story was about. In fact, the character, even though briefly troubled by a bad dream, ends the chapter peacefully sleeping.
I'm reminded of a quote from a publishing editor recently posted here:
"A novel should make the reader keep reading because it immediately poses a "what will happen next" question. So it should open with a bang, some sort of exciting happening that makes the reader go, "oh my gosh, what's going to happen to resolve this?"
I doubt that Donald's opening page—or even the opening chapter—would have ultimately met the demands that this particular editor makes on the narrative. Here, I was lacking the "what will happen next" question.
There were a couple of tense (grammatically speaking) questions here and there—I'm thinking it should have been "his mother had conceived him there. Perhaps his parents had succumbed . . ." but otherwise the writing is nicely done. I think that Donald has an involving, character-based story to tell, and that the incident, the thing that happens to Quercus to shock his life, will ultimately happen—for this reader to keep on, though, it needs to happen far sooner than the second chapter (if, indeed, it's there).
Comments, please?
For what it's worth.
Ray

---
Submitting to the Flogometer:
Email your 1st chapter or prologue plus 1st chapter as an attachment (.doc or .rtf preferred, .docx okay) and I'll critique the first page.
Please format with double spacing, 12-point font Times New Roman font, 1-inch margins.
Please include in your email permission to post it on FtQ.
And, optionally, permission to use it as an example in a book if that's okay.
If you're in a hurry, I've done "private floggings," $50 for a first chapter.
If you rewrite while you wait you turn, it's okay with me to update the submission.
© 2010 Ray Rhamey