It's a conundrum—for most publishers, a writer needs an agent to market a novel manuscript. But today's market makes even connecting with an agent damned difficult. Here's what agent Kristin Nelson said on her blog, Pub Rants:
"I'm passing on really good novels because currently I believe that really good might not be good enough in today's market."
I've run into that response consistently with a novel of mine, The Vampire Kitty-cat Chronicles. Several top agents have asked for partials, and here's their reaction:
"I love vampire kitty, I just don't know what to do with it."
"This is unique, voicey and hilarious -- and not quite right for me. Gah!!!"
"I laughed out loud and thoroughly enjoyed the feline perspective on vampirism. Still, I worried that it's the kind of project that many editors would love but wouldn't necessarily be able to buy."
"I think it's original and very cute. Unfortunately, I don't think I can sell it."
Okay, so it's an agent's job to sell—or, perhaps more accurately, find a willing editor. I understand that.
On the other hand, plenty of beta readers, perfect strangers who encountered my kitty-cat novel on Authonomy, reacted this way:
"Oh, hell, how funny is this?????"
"Patch, the vampire kitty, has risen to the ranks of one of my all-time favorite heroes."
"Bravo. I was looking for laughs and I got them. What a pleasant escape from the daily grind of life."
"This is a cat I want to know. I love this character."
"Pure comic genius."
"The best vampire book I've ever read. Delightfully funny!"
"I wanted you to know that I adore Patch."
And yet I can't get this beast represented. As one agent said, "Gah!!"
So what's a writer to do?
Here's what I'm going to do, and you can help.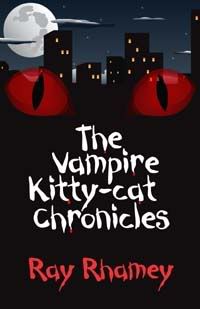 You saw this coming—I'm going to publish this myself. Time is a factor: the vampire craze will simmer down soon or later (especially now that zombies are the new vampire); I have a fresh twist on the vampire myth that just might cut through; and a star character. Here's a rundown of the steps I'm taking:
1. I'm going to launch with a POD trade paperback, a bunch of e-book formats, a free podcast and, if I can get it listed on Audible.com, the gatekeeper for the iTunes store, an audiobook.
2. I'm putting up a website at vampirekittycat.com (it's not live yet). It includes special promotional features such as:
I donate a percentage of each sale to the ASPCA. The ASPCA is willing to consider the book for placement in their online store.
There are two cat "social" features: a photo gallery to post a pic of a Cat You Love; and a "tell me a story about your cat" section.
3. I'm doing a video book trailer with the help of a designer friend, no charge.
4. I've hired a copyeditor to do his thing with the manuscript.
5. I've bought an ISBN number, and been assigned a Library of Congress control number.
6. For the POD book, I've
Designed a cover and the interior
Created an account with Lightning Source, the biggest print-on-demand printer around, I think, and a partner with Ingram, the biggest distributor around. I'm signed up for distribution, too. Lightning Source doesn't offer the kind of complete service that Lulu.com or Create Space does—you have to provide your own press-ready material.
7. I've written to 17 published authors to ask for a blurb—so far, 4 have said they'd take a look. I made sure to disclose that this is a self-published book. I also gave them the agent comments above and this little snippet from the first page:
Just after dark, death grabbed me by the tail. The moon was full, and cool September breezes were scented with earthy hints that fall was coming. I trotted over a mound of fresh dirt, not an uncommon thing in a graveyard, my mind on a svelte little Siamese who was coming into heat--and a hand shot up and grabbed my rear extremity.

I twisted and went for it with my claws, but another hand burst out and seized the scruff of my neck. I went limp, just like when I was a kitten and my mom picked me up. The hands snapped my body straight, and then a woman's face poked out of the ground. She sat up, holding me in front of her. I figured I was about to kiss my furry butt goodbye, and I was right.

Sort of.
8. I'm going to send an ARC (advance review copy) to
Authors for blurbs
About 20 vampire websites
As many cat websites as I can find—surprisingly, there aren't many
The makers of Vampire Wine (I have a bottle, to be opened on publication day)
The makers of top cat food brands to try and sell advertising space and product placement in the book and on the website—hey, this is a business, right?
9. The e-books I can do for free on Smashwords, and earn a healthy percentage of the sales. They even do the Kindle format. I can also list it with Amazon for the Kindle—I need to see what the return is.
10. The free podcast, taking a page from fellow WU contributor J.C. Hutchins, will be performed by me. A nice plus—there's a song by the Grateful Dead, Dire Wolf, in which the chorus says "please don't murder me." It's my character's favorite song. I've secured permission, subject to seeing the book, to use an excerpt of that song for the intro and outro on the podcasts and the audiobook. I'm going to credit the song everywhere I can, and they're not charging anything for the right to use it.
11. Through Lightning Source, distribution will be open at Ingram, Amazon, Baker & Taylor, and other national distributors and book marketers.
12. Oh, and I'm going to send an ARC and my marketing plan to a couple of likely publishers on the extremely unlikely chance that they'll partner with me on the production of the paperback, which would give it the advantage of being available in bookstores. If they like the book, my design work, and the promotional plans, their production costs will be quite low.
13. I've designed graphics for t-shirts and coffee cups to sell on Printfection.
13. And I'll put ads on my Flogging the Quill blog.
Whew!
Want to help, just a little?
First, if you think of a marketing or promotion angle that you don't see above, please suggest it in the comments or in an email.
Second, if you are a published author and might be interested in taking a look at the book with blurbing in mind, please contact me at that email address with your information and a mailing address.
I've ordered the first proof of the book, and hope to be making the ARCs soon.
What's all this cost?
Like many folks, I don't happen to have a whole lot of money these days. So cost is a factor. Here's what I'm looking at:
Paperback book: $75 for setup at Lightning Source, $30 for the first proof, $4.12 per book for the ARC copies, plus shipping. After than, no out-of-pocket costs.
ISBN number: $125
Audiobook/podcast: microphone and other equipment, $200
T-shirts, etc.: no cost to produce, they do it all and take a cut.
E-books: no cost
Copyeditor: don't know yet, estimate $200
30 ARCs: estimate $150
Total anticipated investment: about $800 bucks, not including the website at about $8 per month.
What do you think? Have any ideas? I'll keep you posted as things develop.
Cross-posted today at Writer Unboxed.
© 2009 Ray Rhamey