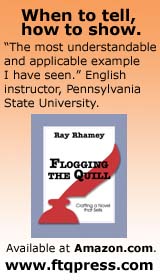 ---
The Flogometer challenge:
can you craft a first page that
compels
me to turn to the next page?
Caveat:
Please keep in mind that this is entirely subjective.
Note: all the Flogometer posts are here.
What's a first page in publishingland? In a properly formatted novel manuscript (double-spaced, 1-inch margins, 12-point type, etc.) there should be about 16 lines on the first page (first pages of chapters/prologues start about 1/3 of the way down the page). Directions for submissions are below.
Some homework. Before sending your novel's opening, you might want to read these two FtQ posts: Story as River and Kitty-cats in Action. That'll tell you where I'm coming from, and might prompt a little rethinking of your narrative.

---
We're going to look at two possible openings for Shaylon's story. Here are her first 16 lines:
Choga clenched the donkey's bone in his right hand. His expression needn't change to show his anger, because little Choga was always angry. He marched a quarter mile down Flogstone's muddy paths, sloppy trenches, and the lantern lit caverns that connected the various parts of the village.

His long hair clung to scrawny, sun-scarred shoulders. His jaw was set in a dangerous trap and his tongue shoved at the back of his teeth. He could still hear the ignorant whine of his mother's voice, "Choga, where are you going with that?"

"I'm going to see Tuggle."

"With a bone in your hand? You stupid boy! What has Tuggle done to you?"

"He killed Megan. I'm going to pay him back."

"Oh, big deal, Choga. That donkey wasn't worth the money I spent on her."

"It was my money." Stupid woman. She acted as if she were the one working every day in the fields.

Choga was not yet sure what role the bone in his hand would play, but expected something gruesome to come of it. Tuggle would be the first to taste its marrow, and that was all he needed to know. He walked for several more minutes until a quick jab in the chest forced him to the ground.
Next are the actual next 16 lines from the manuscript. It lacks only a little scene-setting to be the opening page.
A man stood before Choga wielding a heavy stick. All in all he was very plain, except for an embarrassingly large nose. Choga rose to his feet, but was sent down again with another crack of the stranger's staff.

"Stay still, you little cretin," said the man.

"Hit me again you old goat and I'll -- " CRACK! The knotted end of the stick slammed into Choga's cheek. This one made him sick with pain.

"I said stay still. Put down the bone or I'll beat you into the ground."

Choga did not drop the bone, but he did stay still. "Who are you?"

The man did not answer at first. He drew a long breath with eyes closed, and began humming some song that Choga had never heard. When his eyes opened again, Choga cringed. The man's pupils had been replaced by an empty gray smudge.

"I am Shalus. I am the Grand Designer of world Agnun, this world, and have grown tired of your… well, you."

Choga spit blood from his mouth and replied, "You designed this world? You brought this place into existence?"

Shalus smiled, obviously pleased. "Aye. It is the air from my lungs that you breathe. It is my name that the birds sing."
For me, no on number 1, a resounding yes on number 2
The first selection suggests that conflict is coming, and that's good, and I liked the voice. But there were craft issues that got in the way. The first paragraph is confusing to me—how do caverns connect the village? Is it all underground? And then there were little point of view issues, such as Choga thinking of himself as little. Nor would he be thinking about his hair, shoulders, or the position of his jaw.
On the other hand, the second selection had the same likeable voice, only clearer, and quickly presented a fascinating world with strong story questions for me. It promises a lot of fun. I'd encourage Shaylon to start here. It would take only a little rewriting. The donkey aspect can be worked into their dialogue and Coga's interior monologue on the following pages, but only as little as necessary. Basically, the first sixteen lines were an example of high-level throat-clearing, and the second, for me, an example of hooking me into the story.
Comments, please?
For what it's worth.
Ray

---
Your donations help cover the cost of hosting
FtQ
. Just click the button to chip in.
---
Public floggings available.
If I can post it here,
Submitting to the Flogometer:
Email your 1st chapter or prologue plus 1st chapter as an attachment (.doc or .rtf preferred, .docx okay) and I'll critique the first page.
Please format with double spacing, 12-point font Times New Roman font, 1-inch margins.
Please include in your email permission to post it on FtQ.
And, optionally, permission to use it as an example in a book if that's okay.
If you're in a hurry, I've done "private floggings," $50 for a first chapter.
If you rewrite while you wait you turn, it's okay with me to update the submission.
© 2009 Ray Rhamey