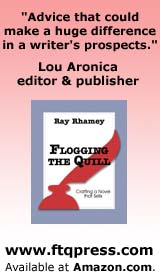 ---
The Flogometer challenge:
can you craft a first page that
compels
me to turn to the next page?
Caveat:
Please keep in mind that this is entirely subjective.
Note: all the Flogometer posts are here.
What's a first page in publishingland? In a properly formatted novel manuscript (double-spaced, 1-inch margins, 12-point type, etc.) there should be about 16 lines on the first page (first pages of chapters/prologues start about 1/3 of the way down the page). Directions for submissions are below.
Some homework. Before sending your novel's opening, you might want to read these two FtQ posts: Story as River and Kitty-cats in Action. That'll tell you where I'm coming from, and might prompt a little rethinking of your narrative.
By the way. . .The critiques I do here on FtQ are "one-pass" critiques—one reading of the sample, and then thoughts and notes. For actual editing, it's at least two readings and a much deeper analysis and annotation.

---
Elise's first 16 lines:
"Okay, you can open your eyes."

Kestrin frowned at his reflection in the mirror, and wished he hadn't shaved. The hairless face just made the image worse. "Michelle, this is awful. Get me a washcloth."

"No, it's perfect! You're a sexy angel!

"No, I look gay." Kestrin cleared his throat and ventured another look at his reflection. "I look nothing like an angel." He glanced down at his legs, exposed below the knee. "And I'm going to freeze."

"It'll show off your calves. We've been over this."

Kestrin couldn't argue with that. He'd already talked her out of the wig, which would have obscured both his blond curls and blue eyes—the two strongest selling points of his entire genetic make-up—without which the party was guaranteed to be absolutely no fun. In the wake of the dream's recurrence last night, Kestrin was even more determined to have fun tonight. "I'm really serious, Michelle." He grabbed a Kleenex. "No glitter."

"Are you afraid you might catch the men as well as the women?"

"I'm straight. Is there something wrong with straight?"

Michelle took a bubble gum pink washcloth (was that the only color she owned?) and (snip)
For me, this didn't reach compelling
Good writing, clear voice, and an immediate scene are in this opening's favor, but I may be the wrong audience for it. The rest of the chapter seemed aimed at romance, and there was some mystery about this character—but it was never clear enough to hook me. The dream that's mentioned here never comes up again (in 37 pages), and I wished that the vague reference to it on this page had been much more specific, either as to its nature or to its effect on him. That's the one hint of jeopardy or a problem for this character, and it was left to die without intriguing specifics to make it come to life and snare my interest. That was the only potential for a story question strong enough that I saw to compel me to read more. The only other question raised by this opening is whether or not he's going to have a good time at the party. Not exactly riveting for this reader.
Technically, the craft side of the writing is fine. I can find little to nit-pick, so there aren't really any notes to go with this one. Well, "bubble gum pink" is a compound adjective and should be hyphenated, i.e. bubble-gum-pink, but that's about it. I'd have to see a later chapter to see if there a stronger tension-inducing story here. The writing through the rest of the chapter was equally good, but I never really knew what the story was about.
Comments, please?
For what it's worth.
Ray

---
Your donations help cover the cost of hosting
FtQ
. Just click the button to chip in.
---
Public floggings available.
If I can post it here,
Submitting to the Flogometer:
Email your 1st chapter or prologue plus 1st chapter as an attachment (.doc or .rtf preferred, .docx okay) and I'll critique the first page.
Please format with double spacing, 12-point font Times New Roman font, 1-inch margins.
Please include in your email permission to post it on FtQ.
And, optionally, permission to use it as an example in a book if that's okay.
If you're in a hurry, I've done "private floggings," $50 for a first chapter.
If you rewrite while you wait you turn, it's okay with me to update the submission.
© 2009 Ray Rhamey