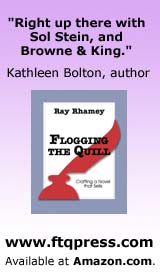 ---
Interview with yours truly up on Buzz Balls & Hype
Thought you might be interested—there's video of one of my old commercials that's fun. Go
here
.
---
The Flogometer challenge:
can you craft a first page that
compels
me to turn to the next page?
Caveat:
Please keep in mind that this is entirely subjective.
Note: all the Flogometer posts are here.
What's a first page in publishingland? In a properly formatted novel manuscript (double-spaced, 1-inch margins, 12-point type, etc.) there should be about 16 lines on the first page (first pages of chapters/prologues start about 1/3 of the way down the page). Directions for submissions are below.
Some homework. Before sending your novel's opening, you might want to read these two FtQ posts: Story as River and Kitty-cats in Action. That'll tell you where I'm coming from, and might prompt a little rethinking of your narrative.

---
Rose has asked for feedback on which of two scene with which to open her "gentle women's fiction." An agent at a conference suggested that she rewrite the beginning to give more of a feel for a small town. The first set of 16 lines:
James Rollins rolled his shoulders and shifted in the driver's seat. Almost there. It couldn't be soon enough for him.

An earsplitting siren's wail forced his hand to tighten around the steering wheel. Red and blue lights flashed in his side mirror. What now?

Michael jerked toward the front seat and bumped his head on the padded ceiling. "What's up, Dad?"

"He's getting pulled over by a cop." Sarah's voice held more excitement than she'd exhibited the entire three-hour trip. "Way to go on our first day in town, Dad."

Pulling the minivan off the road onto the gravel shoulder, James shoved the car into park. His heart shifted into overdrive. "I'm sure I wasn't speeding." He pointed toward the dashboard. "Libby, look for our registration and insurance in the glove box while I find my license." He twisted around to reach his back pocket and retrieved his thick black wallet.

A tall young deputy approached their vehicle.

James rolled down the window, his pulse accelerating into turbo-supercharge. "Hello, Officer. Anything wrong?" He drew in a deep breath and held it.

"Yes, sir. I noticed your left rear tire is pretty low. Thought you better get it fixed before (snip)
Rose's second option for an opening scene:
While waiting for her husband, Libby Rollins stewed. Both men they'd met had been very helpful, but doubts still built a web in her brain. Had this whole move been a mistake?

Mistakes. They littered her life's story like a trail of breadcrumbs, no longer visible except to the recriminating eyes of her soul. Her mind ping-ponged, her neck tension increasing with each volley. Had this move been a wise choice, or would the relocation prove to be another mistake?

Small towns had advantages, like people being the first in line to help a neighbor, in good times or bad. But small towns had disadvantages, too, like those same people being the first in line to gossip, first in line to judge.

She watched as James left the building and moved toward them. By the pleased look on his face, this unexpected stop hadn't wrecked their cash flow too much. What a relief. The move had been more costly than they had anticipated. Even a small sum would put a crimp in their tight budget. The price of a new tire could steamroll it.

"Load 'em up, cowboys. This wagon is moving on down the trail."

Her husband hadn't even been here an hour and he was already talking like a local yokel. Did he think they'd moved to Dodge?
Maybe I just don't get women's fiction
Despite good techniques of opening with a scene and clear writing, I didn't find either opening to be truly compelling. It wasn't difficult to stop, primarily because there's little tension reflected here, or any consequences. In the first scene, we have a low tire and a helpful cop. In the second we have internal musing about anticipated complications of living in a small town. Is that the story?
In the remaining chapter, we meet a teen son and a younger teen girl. The girl is sarcastic and pissy, and the mom wonders if they've moved far enough away from the girl's not-so-good previous associates. None of this is terribly threatening. As I say, I may just not get what's compelling in women's fiction, so would you women out there please speak up?
Comments, please?
For what it's worth.
Ray

---
Your generosity helps defray the cost of hosting
FtQ
.
---
Public floggings available.
If I can post it here,
Email: email 1st chapter or prologue plus 1st chapter as an attachment (cutting and pasting and reformatting from an email is a time-consuming pain) and I'll critique the first couple of pages.
Please format with double spacing, 12-point font, 1-inch margins.
Please include in your email permission to post it on FtQ.
And, optionally, permission to use it as an example in a book if that's okay.
If you're in a hurry, I've done "private floggings," $50 for a first chapter.
If you rewrite while you wait you turn, it's okay with me to update the submission.
© 2009 Ray Rhamey