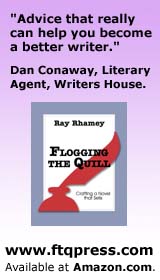 ---
Hey, pal, can you spare a review for Barnes & Noble?
There are 17 reviews of
Flogging the Quill, Crafting a Novel that Sells
up at Amazon, but none at Barnes and Noble. If you can spare a minute and have read my book, I would appreciate your adding a review
here
. Thanks.
---
The Flogometer challenge:
can you craft a first page that
compels
me to turn to the next page?
Caveat:
Please keep in mind that this is entirely subjective.
Note: all the Flogometer posts are here.
What's a first page in publishingland? In a properly formatted novel manuscript (double-spaced, 1-inch margins, 12-point type, etc.) there should be about 16 lines on the first page (first pages of chapters/prologues start about 1/3 of the way down the page). Directions for submissions are below.
Some homework. Before sending your novel's opening, you might want to read these two FtQ posts: Story as River and Kitty-cats in Action. That'll tell you where I'm coming from, and might prompt a little rethinking of your narrative.

---
Penny's first 16 lines:
All I can see is an empty bottle of pills, rolling on its side, lacquered wood tile, sad rueful silhouettes, a gauzy space-bent overture of light and sound, density-deep colors sink, bubbling pink above the fray- I can see a carcass carried, past paintings, pictures, idle eyes idyllic times, creak and slam the doorway pans, a blinding blot of sun, whose rays now string the scene undone, undulating cityscape, arrhythmic limbs defiant faces, "By God's great glory stay awake!" eyelids in and out, lashes flurry, nails hook, pressing, prying with whim, a schism of skin, dwindling curvatures, feral fangs of searing sun, phantasmagoria too fast wrung, amorphous globs of flesh gyrating, debating, howling incantations, train stations fair maidens, jogging, "Buy Rod's stale whorry paint!", noses lips teeth hips, turns and dips, whip, singing skin, whip, again and again, by follicles hung a slithering slump, "I hypnotize the Devil's brain!", rain, weeping windows receding sunstrobe SMACK, red nose, a river flows a pitcher throws SMACK, red nose grows, joins slack sedated maw, serrated spades in vocal chains, "Playyyywithtrayyys!", incoherence, interference, SMACKSMACK, stillness surrounds, I can see them lug a body out, involuntary spasms, writhing mechanic, automatic doors crystalline floors, wheelchair circumventing stairs, perpetual frisson denial implicit, shirt off pants down lay back go NOW, wires plastered to skin, tubes funneled within, white coats brown faces, deft (snip)
I just wasn't willing to work that hard
There are poetic elements in this stream-of-consciousness narrative, but this imposing scramble of words and thoughts didn't engage me. The thought of inching through much more was off-putting, and I just wasn't hooked by interest in a character or what might be going on to turn the page.
On the next page the ramble/rant ended and the narrative took a more ordinary form. Let's see if you think that works better—caution, adult language ahead.

Almost as soon as I get up I'm pushed back down. "Hospital policy." A flower-scrubbed nurse and a guard in standard garb are rolling me steady down a sky-lit hall. The nurse, a forty-something frazzled looking single mother type, hasn't stopped musing since we left the ICU, in that cozily altruistic single mother fashion. The guard has remained mute save for the informative bit, and walks authoritative at our back.

"I guess I'm crazy.'

"You'rrrre not crazy," she assures, the nurse does, in a long drawn slur. "Just a little mixed up." I enjoy her coddling.

"I'm a fuck up, a headcase, a downright disappointment." It's not as if I haven't my own mother. It's not as if my own biological mother doesn't strive to show affection, and it's not as if I don't shunt those efforts defiantly. This is beyond me, or rooted, wired, wrought deep within me, a disease of the cells that shoots to the brain and aches in the heart.

"Don't talk like that, you're a wonderful kid." She ruffles my tufts of hair.

I'm getting some excessively sick and possibly somehow sexual pleasure out of this. Rather than digress into a nasty gambit of perhaps incestuous but undoubtedly fucked up Freudian-esque theoretical debauchery I'll just take it for what it is. Just to spite my own (snip)
I would have turned the page with this narrative to see what happens next. The character, by the way, is female, and for some reason I thought it was male. Possibly because I am male and, absent any other clues, I went to my personal default. There's strong writing here, and a strong voice, but it walks a line—be wary of throwing too much incomprehensibility at the reader at once.
Comments, please?
For what it's worth.
Ray

---
Your generosity helps defray the cost of hosting
FtQ
.
---
Public floggings available.
If I can post it here,
Email: email 1st chapter or prologue plus 1st chapter as an attachment (cutting and pasting and reformatting from an email is a time-consuming pain) and I'll critique the first couple of pages.
Please format with double spacing, 12-point font, 1-inch margins.
Please include in your email permission to post it on FtQ.
And, optionally, permission to use it as an example in a book if that's okay.
If you're in a hurry, I've done "private floggings," $50 for a first chapter.
If you rewrite while you wait you turn, it's okay with me to update the submission.
© 2009 Ray Rhamey