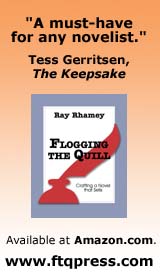 ---
Hey, pal, can you spare a review for Barnes & Noble?
There are reviews of
Flogging the Quill, Crafting a Novel that Sells
up at Amazon, but none at Barnes and Noble. If you can spare a minute and have read my book, I would appreciate your adding a review
here
. Thanks.
---
The Flogometer challenge:
can you craft a first page that
compels
me to turn to the next page?
Caveat:
Please keep in mind that this is entirely subjective.
Note: all the Flogometer posts are here.
What's a first page in publishingland? In a properly formatted novel manuscript (double-spaced, 1-inch margins, 12-point type, etc.) there should be about 16 lines on the first page (first pages of chapters/prologues start about 1/3 of the way down the page). Directions for submissions are below.
Some homework. Before sending your novel's opening, you might want to read these two FtQ posts: Story as River and Kitty-cats in Action. That'll tell you where I'm coming from, and might prompt a little rethinking of your narrative.

---
Jamal's first 16 lines:
The worst year of my life started moments after the birthday sex, seven hours before I cut the cake, and twenty-two days before the start of my last year in college. I had just turned twenty-one.

"…but, what do you want to do next year?" Vivian asked. "I hear all these options, but I haven't heard you express an opinion yet."

"I'm not sure. Like I said, I haven't heard back from Clifton yet..." I said.

"If they offered you a job right now, would you take it?"

"Maybe…it's in my field, you know?"

"I didn't ask you if it's in your field. Would you take it?"

"It'd be really convenient and—"

"That's not what I asked you."

"I know it's not what you asked me. But it's more complicated than that…"

"Danny, look," she said, "you could do anything you set your mind to. And I'm not just saying that because I'm your girlfriend, but forget about what you're supposed to do because you're a psych major or because of what people expect of you…just do what you want. It's the rest of your life—you reserve the right to be selfish about it."
Not for this reader
While cleanly written, and while the opening sentence works at foreshadowing interesting times, I saw no particular tension on this page. Nor a lot else—it would have been nice to have set the scene, just a bit. Are they in bed still? In bed where? You might say that there's nothing much happening here, at least nothing that could cause serious problems in the protagonist's life.
Despite that the opening promises the worst year of his life beginning seconds after birthday sex, which I assume is when this dialogue takes place, the rest of the chapter never gets there. As the chapter continues, we learn that his girl is going to take a job in another town while he finishes school, and then there's a lot of backstory involving another character, and how the protagonist lost a school election, which was hardly a dire thing. Nothing "worst" happens to this character in the first 9 pages. I looked for a stronger opening, but didn't see one. There's a reason I suggest that writers read the two posts recommended above -- Story as River and Kitty-cats in Action.
There's not much craftwise to nit-pick, so I'll leave it with this admonition: GET ON WITH IT! (The story, that is.)
Comments, please?
For what it's worth.
Ray

---
Your generosity helps defray the cost of hosting
FtQ
.
---
Public floggings available.
If I can post it here,
Email: email 1st chapter or prologue plus 1st chapter as an attachment (cutting and pasting and reformatting from an email is a time-consuming pain) and I'll critique the first couple of pages.
Please format with double spacing, 12-point font, 1-inch margins.
Please include in your email permission to post it on FtQ.
And, optionally, permission to use it as an example in a book if that's okay.
If you're in a hurry, I've done "private floggings," $50 for a first chapter.
If you rewrite while you wait you turn, it's okay with me to update the submission.
© 2009 Ray Rhamey