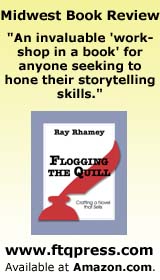 ---
FtQ is on the road
The workshop in Mendocino went swimmingly—the group (23 writers) and I critiqued the opening pages of 11 novels, and the writers seemed quite pleased with what they learned whether we turned the page or not. The writing was quite good, overall, yet I turned the page on only 2. The group was more generous than I, but the writers gained insights nonetheless.
---
Carole-Anne's first 16 lines:
The first time I saw him, I was five years old. A proverbial kid in a candy store, only… I wasn't proverbial and it wasn't exactly a candy store.

Back then, my mother and I filled in the long hours until my father came home as best we could. Like toys discarded in the playroom, we only truly came to life when he walked through the door at the end of the day. Busying ourselves with household tasks, we allowed the minutiae of ordinary life to distract us for as long as possible, until – the banking done and the dry cleaning dropped off – we would wander over to the park to wait. And watch.

It was from my mother that I learned to read people like books, inferring emotion from a glance, a shift of the shoulder, a twist of the mouth. My mother was an expert at taking the measure of a person, at finding the cracks in the foundation of a life. Maybe that was what made her a good nurse. Or maybe it was the way she held herself apart from others, occupied, but unaffected. She hadn't returned to the hospital right away like everyone had expected her to. I didn't understand why until much later. And when I did, too much had happened, too much had passed between us to return to the place where understanding might have helped.

That day – the first time – the weather had been murky and cold, the late November wind ripping the few remaining leaves from the trees to mingle with the garbage that coasted along the (snip)
Good writing, but no page turn for this reader
The editor side of me likes receiving submissions so cleanly written. That, and a clear, good voice, are likable qualities of this opening. On the other hand, tension is missing. Nor, for me, does it raise a single story question. The one possible question, who is "him," didn't arise in me because the reference to "him" doesn't contain any hints as to why it might be special. And then the narrative lapses into exposition to ground us in the character and his/her mother (the pages sent contain no name for the character, nor a hint of gender).
Since there's not much to nit-pick here, I looked for what I thought could be a stronger opening. Here, constructed from material from the remaining pages, is a different set of 16 lines.
My mother had grudgingly begun her overseas Christmas shopping, hoping to package up and ship off the gifts for her Scottish in-laws ahead of the holiday rush. Thoroughly uninterested in helping her pick out pyjamas for my cousin Shirley, I pretended I was blind, my eyes squeezed tightly shut and one hand stretched out in front of me. I used the belt of my mother's winter coat like a lifeline.

Growing tired of my game, I let my eyes slide open and saw a Christmas village built completely out of gingerbread. Almost as tall as I was, the walls were stacked upon cotton candy snowdrifts – the crystallized sugar a fair mimic of ice warmed by the sun. The warm smell of cinnamon wafted under my nose as I gazed in wonder at chocolate wafer streets that had been patterned like cobblestones and lined with candystick light posts. At the end of the street, a licorice car was stopped at a cherry-red lollipop.

Mesmerized, I drifted towards the village, staring at the snow-capped peaks on the roof. Tentatively, I reached out with one finger to touch the outer edge of the sugary wall and stopped, suddenly aware of the slack in my other hand. Looking back, I stared uncomprehending at the tan belt that lay on the floor like a sick snake, no longer attached to my mother's coat. No longer attached to my mother. She was gone.
If you think of this as the opening, the description almost lulls you into a sense of a safe child's world, and then the last two sentences are like a whip-crack of tension and a huge story question.
Just a thought. Very nice writing here, as I said, but I urge you to get to the story sooner. And let us know whether this is a girl or boy, plus an idea of the age.
Comments, please?
For what it's worth.
Ray

---
Your generosity helps defray the cost of hosting
FtQ
.
---
Public floggings available.
If I can post it here,
Email: email 1st chapter or prologue plus 1st chapter as an attachment (cutting and pasting and reformatting from an email is a time-consuming pain) and I'll critique the first couple of pages.
Please format with double spacing, 12-point font, 1-inch margins.
Please include in your email permission to post it on FtQ.
And, optionally, permission to use it as an example in a book if that's okay.
If you're in a hurry, I've done "private floggings," $50 for a first chapter.
If you rewrite while you wait you turn, it's okay with me to update the submission.
© 2009 Ray Rhamey