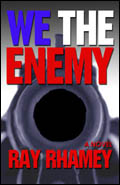 Update: I have a guest post up on Writer Unboxed that's particularly relevant to what's going on here.
---
I'm about to go asking for blurbs for one of my novels, and I'd sure appreciate your help in evaluating two things, one today, one in the next post. First up is the cover, front and back.
Here's the scene
You're strolling in the bookstore, and you see the book to the right:

Next, let's assume that you did pick up the book, flipped it over, and found the following copy on the back cover.
We the Enemy is no ordinary thriller—it is not for everyone.

But it's about everyone—people who work hard to create good lives for themselves and their families. About you.

It's about Jake, an ex Secret Service agent whose emotions died then he lost his wife and child. Jake is a killer now, but the fates of many good people come to rest in his hands, on whether he can love again.

And Jewel, a single mother in the projects of Chicago, struggling against drugs and violence—and losing. She can change her life, but only if she opens to trusting. She will put Jake in a hellhole prison where the violent are sent to die.

The Alliance threatens the president's re-election, and Jake is hired to crush it. Patriots rally to stop the Alliance from taking away basic freedoms—and other patriots unite behind the hope it offers for a better life.

Death is on the hunt in We the Enemy, disguised as righteousness. But which are the enemies? Which are the victims?

We the Enemy is compelling suspense, but there's more to this story. This thriller has a mission.

It will challenge the way you think about guns.
About justice. About prison. About the Fifth Amendment.

Beyond that, it will affirm your personal power to make life better.
Please leave a comment as to why you said yes or no to looking at the first page.
Next post, I'll give you that first page and a chance to do a little flogging.
Many thanks for your help.
Ray

---
Your generosity helps defray the cost of hosting FtQ.
---
Public floggings available. If I can post it here,
send 1st chapter or prologue plus 1st chapter as an attachment (cutting and pasting and reformatting from an email is a time-consuming pain) and I'll critique the first couple of pages.
Please format your submission as specified at the front of this post.
Please include in your email permission to post it on FtQ.
And, optionally, permission to use it as an example in a book if that's okay.
If you're in a hurry, I've done "private floggings," $50 for a first chapter.
If you rewrite while you wait you turn, it's okay with me to update the submission.
© 2009 Ray Rhamey