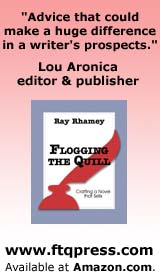 ---
So you've finished your first novel, set it aside to chill, then done a thorough polishing. Perhaps you're lucky enough to have a critique group, and they've vetted it as well. You're ready to go, right? Ready to get your queries out there and find an agent, right?
The answer is definitely maybe. Or, for many of us, not likely.
While it is absolutely true that some first novels find an agent and publication, my research shows that's a rarity.
Agent Janet Reid wrote a post in which she says that the most common mistake writers make in querying is that they do it too soon. Her number two definition of how soon is too soon was this:

It's your first novel. No matter how hard it is to hear and follow this advice, it's probably the best advice I'll ever offer: write a second novel before you query on the first one. You'll learn so much while writing that second novel that you'll go back and either revise or discard Novel #1. AND you won't have all the baggage from those damn form rejections to weigh you down.

Your desire to get past the query stage to publication stage is the biggest block to actually achieving your goal.
Is it all bad that your first novel is unlikely to make the grade? Actually, not really. Add to Janet's advice that what freelance editor and book doctor Ed Stackler told me. Ed was an editor for St. Martin's Press and Penguin's New American Library, and his client list includes a number of bestsellers.

My colleagues and I have observed that it's not until about the third novel that an author "gets it," finally acquires the ability to create a publishable novel, both from the storytelling and craft point of view. It might happen sooner or later, but that seems to be the average."
Should you be discouraged by those words?
Not if you have the persistence it takes to succeed as a novelist. These are part of the dues that have to be paid. A candidate for a Ph.D. knows he has to put in years of study, do research, write countless papers and a thesis—why should becoming a novelist be any different?
Doctoral students, however, have professors to guide them. For most of us, learning to write a novel is self-taught, so our success depends on how good a teacher we are. If you're like me, you've read the writers' magazines, and you buy the books and study the techniques.
But studying books doesn't a publishable novel make. I just watched the Wimbeldon final, and the talent and ability of Nadal and Federer are stunning—but it took them many years of practice (with coaching) to achieve their championship level. Getting to a publishable novel isn't any different, it's just that it's your head that has to do all that practice and training.
And even then you're probably a couple of yards short of the goal line
Once your manuscript (whether it's first, third, or fifth) reaches a point of being capable of being perceived as being publishable by an agent or an editor, the odds are just about 100% that you've got more work to do. Luckily, this time you'll finally have a coach or two.
Many agents (more and more, now that editors are leaving publishers and donning agent hats) will give you notes for improving your manuscript before it goes out on submission. Even if you find an agent that doesn't do that, once you've signed with a publisher there will be an editor who takes on that role.
Having a coach or two at this final stage of finally getting your book published is, I think, especially necessary for novelists who try self-publishing. We all know that self-published fiction has a terrible reputation for quality, and the lack of an editor is the cause.
I've looked at of a number of self-published novels, and there are ALWAYS storytelling and craft issues. Even if the grammar is sound, the narrative craft (creating tension, avoiding speed bumps such as backstory) is usually not, well, professional.
How to substantially improve your odds
On the Internet, I've read more than one blogging agent advise that, if you must self-publish, have an editor go through your novel first. At the least, a copyeditor, who can pick up the grammar and technical errors that shout "amateur!" An English major friend, or a magazine editor you know, may be able to fill this role for little or no cost, but is that enough?
Not really. The kind of editor a self-publishing author needs (or, in fact, just about any first novelist who is about to submit a novel to agents and publishers) is a developmental/substantive editor, an editor who focuses on the storytelling and the writing craft with which you deliver it.
Hiring an editor can be costly, especially a top-level one (one that I know charged $125 an hour the last time I checked, and that was 4 years ago), but how wise an investment is it to put your dollars behind a flawed manuscript that's destined to fail? Hey, I do that kind of editing (but not for a fee that high), and for one of my novels that I'm readying to self-publish if my last round of agent submissions doesn't work, I hired a top editor at a fee of $2,500 for a professional critique. And it was worth it—while my actual writing/narrative has been at the pro level for some time now, he was able to see plot holes and debilitating detours. Fresh eyes. Fresh, professional eyes.
FtQ readers see it happen
Even with the mini critiques and edits of the Flogometer, regular FtQ readers have seen the improvement that my coaching and theirs has made in writers who rewrite and resubmit. More than once they've gone from no page turn to a turn of the page. But that's just focusing on the first 16 lines. What about the rest of their manuscripts?
As my clients can tell you, even those who just went for a first-chapter edit, there's a LOT more to an in-depth, substantive critique and edit. A full-manuscript approach to editing that I want to try is this: first, a critique of the whole manuscript (you need to see where it's going and how it gets there). And then an intense edit, with extensive coaching, of the first 50 pages. For the next 50 pages, the writer applies the coaching from the first 50 before submitting them for editing. This way the writer has a chance to learn and improve her craft with coaching focused on her own work, not merely on exercises for a class.
As a less expensive alternative, I'm thinking about inaugurating a "Private Lesson" plan for a novel's first 50 pages—it will lack the full-novel read, but the line editing and coaching should still be a learning experience that not only lifts the first 50 pages but guides a rewrite of the rest of the manuscript. To get the most value from this plan, I would recommend that a writer apply the coaching in my book, Flogging the Quill, Crafting a Novel that Sells, before signing up.
The bottom line
Write a novel. Then write another novel. Get professional fresh eyes if you can. Then maybe write a third novel. I've written 5 now, and three of them are publishable. I can't stand to look at the second one. But was it a waste? Heck no, I learned a lot from writing it.
For what it's worth.
Comments, anyone?
Ray

---
Your generosity helps defray the cost of hosting FtQ.
---
Public floggings available. If I can post it here,
send 1st chapter or prologue plus 1st chapter as an attachment (cutting and pasting and reformatting from an email is a time-consuming pain) and I'll critique the first couple of pages.
Please format your submission as specified at the front of this post.
Please include in your email permission to post it on FtQ.
And, optionally, permission to use it as an example in a book if that's okay.
If you're in a hurry, I've done "private floggings," $50 for a first chapter.
If you rewrite while you wait you turn, it's okay with me to update the submission.
© 2009 Ray Rhamey