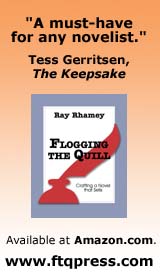 ---

First, a new 5-star review Midwest Book Reviews just gave Flogging the Quill, Crafting a Novel that Sells, this 5-star review:
An invaluable 'workshop in a book' for anyone seeking to hone their storytelling skills

No sector of the publishing industry is as competitive as that of fiction. The competition facing any aspiring novelist is intense and only the best, most imaginative, and technically skilled will succeed. That's why 'how to' books like Ray Rhamey's "Flogging The Quill: Crafting A Novel That Sells" are such important, practical, and recommended reading for anyone who is seeking to establish a profitable career writing fiction, regardless of the genre they choose to specialize in. Drawing upon his years of experience as an author and editor, and as the creator of the 'litblog' 'Flogging the Quill' where writers from around the world can explore the craft of storytelling, Ray Rhamey has organized his instruction manual into seven major sections: Storytelling; Description; Dialogue; Technique; Words; Workouts; and Computer Tips. An invaluable compendium that is as informed and informative as it is thoughtful and thought-provoking, "Flogging The Quill" will prove to be an invaluable 'workshop in a book' for anyone seeking to hone their storytelling skills and produce novels that will be able to successfully compete for publication and sales.
I especially like the notion of a "workshop in a book."
Will your WIP's first line win a free, signed copy of Flogging the Quill, Crafting a Novel that Sells?
I will send a signed copy of my book to the person who has, in my estimation, the best first line from their WIP, and FtQ readers will be involved in the selection process. Here are the rules and how-to's, but first, just to be perfectly clear . . .
This is a promotion. It is designed to interest you in buying the book. So I'll ask entrants to do something to help that along. It'll be fun, I think, but I want there to be no question as to purpose here.
The rules/how-to's: entrants will do the following --
Tell me in a comment on the blog which of the six kitty-cat scenarios in the free PDF sample you think is the best hook (not just the first line, but the complete opening). You can just state a number, 1 through 6. The votes will be compiled and the result reported. To read the chapter, you can click on the "Look inside" graphic on this site to open a PDF, or click here.
In the same comment, give me the opening line of a work in progress (WIP). Please DO NOT make up a special line just for this competition—it has to be a real line that you think is the best way to open your novel in progress. If you want to hone your line before submitting it, please do.
The line can be from a completed manuscript as long as it is unpublished.
Make sure the email address you give when making your comment is correct as it's the only way I can contact the winner.
The process, timing, etc.
Contest opens today and ends Friday (June 19th) at midnight.
On the following Monday I will post my top 10 picks in a poll.
You vote for your favorite.
Voting will end Tuesday at midnight.
Wednesday (the 24th), I'll announce the winner. This may or may not be the one the majority selects. Hey, this is all subjective, right?
In addition, I'll post the results on the kitty-cat scenario votes sometime that week.
If you've followed this blog, you know that I'm looking for a strong hook, a sentence that compels further reading. As for why this first sentence is so important, here's an excerpt from my book on the subject:
There's a reason for working to create tension with your very first sentence—it leads to the second sentence, and you draw your reader into your story sentence by sentence by sentence. It's clear that each sentence on the first page is charged with the responsibility to KEEP READERS MOVING FORWARD.

When you send a sample to an agent, or when an editor turns to your first page, you are on trial. Not just your work, but your ability. The agent/editor wants to know, can this writer engage me? Can this writer use language to make me read his story?

The story is on trial as well. You get a few hundred words to make your initial case that the journey through the next 80,000 words is worth it, and will reward your reader with a helluva reading experience.

And it all starts with that first line.

But there are so many things in your mind when you craft that first sentence—setting the scene, or characterizing, or creating action, or whatever—it's entirely possible to miss seeing a lack of tension.
So send in the first line from a WIP. Flogging will resume on Wednesday, though I will keep posting the rules and how-to's for the contest.
Good luck.
Ray

---
Your generosity helps defray the cost of hosting FtQ.
---
Public floggings available. If I can post it here,
send 1st chapter or prologue plus 1st chapter as an attachment (cutting and pasting and reformatting from an email is a time-consuming pain) and I'll critique the first couple of pages.
Please format your submission as specified at the front of this post.
Please include in your email permission to post it on FtQ.
And, optionally, permission to use it as an example in a book if that's okay.
If you're in a hurry, I've done "private floggings," $50 for a first chapter.
If you rewrite while you wait you turn, it's okay with me to update the submission.
© 2009 Ray Rhamey