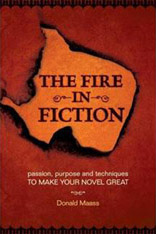 Donald Maass, one of the top fiction literary agents, contacted me and other bloggers to offer short excerpts from his forthcoming book, The Fire in Fiction: Passion, Purpose and Techniques to Make Your Novel Great. I chose the one on Micro-Tension. I cover this in topic one of the sections in my book with Tess Gerritsen's take on what Don had to say in one of the workshops she attended.
A literary agent in New York, Donald Maass's agency sells more than 150 novels every year to major publishers in the U.S. and overseas. He is also the author of The Career Novelist (1996), Writing the Breakout Novel (2001), and Writing the Breakout Novel Workbook (2004).
I have all of his books, and have ordered the new one. They're well worth it. What you may not know is that Maass is also a published novelist and a keen analyst of fiction. For his Breakout book, he analyzed 100 successful novels to detect the commonalities that contributed to their success. The reason he sells them so well is that he understands what makes them sell, and how to make that happen.
Here's the description he sent of his new book, and then the excerpt. And thanks, Don, for your contributions to all of us wannabe novelists.
In his new book, New York literary agent Donald Maass illuminates the techniques of master contemporary novelists. Some authors write powerhouse novels every time. What are they doing differently on the page? Maass not only explains, he shows you how you can right away use the techniques of greatness in your current manuscript.

Micro-Tension
Conflict is story. We hardly need discuss that any further. Every novelist who's gotten beyond the beginner stage knows it. What many do not grasp, though, including many published novelists, is that what keeps us turning hundreds of pages is not a central conflict, main problem or primary goal.

Think about it. If that was all it took to get keep readers involved to the end, then all you would have to do is set a principal plot problem at the outset. Then you could indulge yourself however you like for hundreds of pages.

Imagine.

Of course it is not like that. Conflict must be present in smaller ways throughout. Most novelists understand that too, or say they do. Despite that I am able to skim vast swaths of virtually all manuscripts and portions of many published novels.

What is it, then, that keeps us reading all the way? Is it conflict within each scene; a character in every chapter who has a clearly stated goal? Is it avoiding low-tension traps such as back story, aftermath, landscape and weather openings, empty exposition and unneeded dialogue? Is it keeping the action moving? Is it throwing in sex and violence for occasional jolts of adrenalin and allure? Is it luck?

What keeps us reading every word on every page of a novel is none of that. Consider the page turners on your shelves that do open with weather or scenery, or quickly dump in back story, or linger in aftermath and indulge in exposition. How do those authors get away with it?

Conversely, think about those highly-plotted, action-packed novels that didn't hold your attention. Think about the violence that moved you not at all and the sex scenes that you skipped. Weren't those novelists doing it right, writing by the rules? How come, then, you set those novels aside?

Holding a reader's attention every word of the way is a function not of the type of novel you're writing, a good premise, tight writing, quick pace, showing not telling or any of the other conventionally understood and frequently taught principles of storytelling.

Keeping readers constantly in your grip comes from the steady application of something else altogether: Micro-tension. That is the tension that constantly keeps your reader wondering what will happen—not in the story, but in the next few seconds.
Comments, anyone?
For what it's worth.
Ray

---
---
Tips & Subscriptions
Your generosity helps defray the cost of hosting
FtQ
.
---
---
Public floggings available.
If I can post it here,
send 1st chapter or prologue plus 1st chapter as an attachment (cutting and pasting and reformatting from an email is a time-consuming pain) and I'll critique the first couple of pages.
Please format your submission as specified at the front of this post.
Please include in your email permission to post it on FtQ.
And, optionally, permission to use it as an example in a book if that's okay.
If you're in a hurry, I've done "private floggings," $50 for a first chapter.
If you rewrite while you wait you turn, it's okay with me to update the submission.
© 2009 Ray Rhamey