---
Interesting post on prologues
This is especially timely as we're looking at another prologue today. Agent Nathan Bransford discusses prologues
here
. "The reader knows full well while reading a prologue that the real story is waiting. A prologue makes a reader start a book twice, because it doesn't always involve the protagonist..."
---
Sign up for the "Friends of FtQ NewsNotes"
Email me
with a "Yes" and your first and last name.
---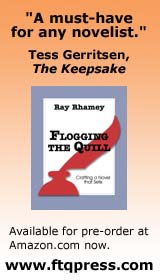 My book, Flogging the Quill, Crafting a Novel that Sells,
is now available for pre-order at
Amazon.com
. I should be printing and shipping within in a few weeks, and early orders will be tremendously helpful.
---
The Flogometer challenge:
can you craft a first page that
compels
me to turn to the next page?
Caveat:
Please keep in mind that this is entirely subjective.
Note: all the Flogometer posts are here.
What's a first page in publishingland? In a properly formatted novel manuscript (double-spaced, 1-inch margins, 12-point type, etc.) there should be about 16 lines on the first page (first pages of chapters/prologues start about 1/3 of the way down the page). Directions for submissions are below.
Some homework. Before sending your novel's opening, you might want to read these two FtQ posts: Story as River and Kitty-cats in Action. That'll tell you where I'm coming from, and might prompt a little rethinking of your narrative.

---
Tom's first 16 lines (a prologue):
Steve Stevens stands alone on the moonlit veld, in fear of death. The terrified nineteen-year-old clutches his only comfort, an automatic firearm he scarcely knows how to use, and peers into the night. He can see a distant glow on the edge of the tobacco land, half a kilometre away. It brightens, and moves from side to side, as if signalling to Steve – or to someone behind him.

The boy is a feather edge away from panic; he has never been so afraid, and yet, oddly, there is no sign of the asthma which ruled out his conscription into the Rhodesian Army. But there is no escape from the terminal agonies of a lost colonial cause, at a time when all white men must serve, regardless of age or infirmity. Steve is a long way from home, doing his bit as a 'bright light'. This means providing an armed presence on Vergenoeg, Otto Moodie's farm on the Umniati River near Riversdale.

He turns and looks back at the dark farm buildings two hundred metres away, where Otto is waiting for him to investigate and report back. The farmer has a hunting rifle and a shotgun close to hand. He is also linked to the military Agric-Alert network, and will call for help if Steve fails to return, or if he hears shots.
I wasn't compelled forward
The writing is good (I liked "feather edge" even though it's not in the character pov), but the narrative is so distant from the character. We are told he is afraid and near panic, but not made to experience it. It's all from the author's point of view, not the character's. There's a little info-dumping going on, too—the "This means" part. While this may be necessary to know at some point, surely not on the first page when the writer needs to hook the reader's interest and emotion.
I've another wee gripe—at the end of the prologue, we learn that the light is a mysterious globe of light that floats through the air. That's fine, though it would have been good to know about this perhaps paranormal bit at the first. And we could have—it turns out that Otto, the farmer who is waiting, knows about this "ghost." Why didn't he tell Steve? Seems like it would be the first thing he'd mention when the light was first spotted and Steve went to investigate.
I was interested in the time and world of the narrative—Rhodesia in the time Mugabe led his uprising. But the story needs to take hold of me, and this prologue didn't. I suggest Tom either look at opening with a gripping first chapter, or put us inside Steve's head and help us experience the story from his point of view.
Comments, anyone?
For what it's worth.
Ray

---
Tips & Subscriptions
Your generosity helps defray the cost of hosting
FtQ
.
---
Public floggings available.
If I can post it here,
send 1st chapter or prologue plus 1st chapter as an attachment (cutting and pasting and reformatting from an email is a time-consuming pain) and I'll critique the first couple of pages.
Please format your submission as specified at the front of this post.
Please include in your email permission to post it on FtQ.
And, optionally, permission to use it as an example in a book if that's okay.
If you're in a hurry, I've done "private floggings," $50 for a first chapter.
If you rewrite while you wait you turn, it's okay with me to update the submission.
© 2009 Ray Rhamey