---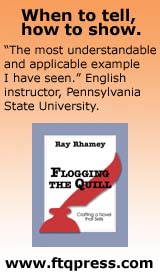 Update on my book It's FINALLY going to happen. After struggles in getting the right printer, it's due to be printed May 1 and available soon after. I've signed up with a distributor, and eventually it will be orderable at bookstores. Pre-orders are now possible on Amazon.com, and you can bet there will be a big announcement here when it's all good to go. I just received an endorsement from agent Donald Maass that I'll share then.
---
The Flogometer challenge: can you craft a first page that compels me to turn to the next page? Caveat: Please keep in mind that this is entirely subjective.
Note: all the Flogometer posts are here.
What's a first page in publishingland? In a properly formatted novel manuscript (double-spaced, 1-inch margins, 12-point type, etc.) there should be about 16 lines on the first page (first pages of chapters/prologues start about 1/3 of the way down the page). Directions for submissions are below.
Some homework. Before sending your novel's opening, you might want to read these two FtQ posts: Story as River and Kitty-cats in Action. That'll tell you where I'm coming from, and might prompt a little rethinking of your narrative.

---
Terry's first 16 lines:
A glorious warm summer day called to Whitey and PJ to take a hike along the river further than they had ever gone before. Perfect weather buoyed their sense of freedom higher than it had been in years.

The nadir for PJ was the summer three years prior when he was ten. That summer the nexus of two events occurred casting an anxiety pallor over everyone in the area that they would never see again.

The first component, a fear that so many were feeling was the nearly daily revelations from Joe McCarthy that Communists were secretly infiltrating the whole country and soon would be taking away the freedoms saved by the world war that ended ten years before.

Secondly and most stressful to young people was a polio quarantine in many cities keeping kids in their yards for the whole summer until complete inoculation with the Salk vaccine was completed.

Today images of iron lungs and concentration camps were nowhere near his conscious thoughts. They were securely walled up in the deeper dungeons of his memory. Another prisoner down there was about to escape and cause the surrender and death of his adolescence, a telltale heart.
I passed on this one
Even though the writing is clean, there were three primary reasons I didn't turn the page: distance, exposition, and lack of tension. The very last line does promise a story, but the preceding 15 promise a lot of "telling." As I've learned after reviewing hundreds of novel openings, the first page generally makes promises that the rest of the manuscript keeps, even the not-so-good ones.
The first paragraph seems like it will lead us into an adventure, and that's good. But then the second goes into high orbit above the boys to become a very adult voice telling us things that don't seem related at all to the opening. The exposition that follows sets the historical scene. . .and drags the story to an utter halt.
The following pages were much the same—a great deal of exposition and "telling" and nary a scene in sight. I'm certain Terry has a story to tell, and the times it lives in are very interesting. But Terry needs to get inside the head of this boy and show us what's happening to him. Find ways to weave in the historical components through what the boy sees, hears, does, and thinks. But, mostly, help us to live his story, not read a report of historical aspects of back then. You've got this information down, now set it aside and just "be" the boy's story.
Comments, anyone?
For what it's worth.
Ray

---
Tips & Subscriptions Your generosity helps defray the cost of hosting FtQ.
---

Public floggings available. If I can post it here,
send 1st chapter or prologue plus 1st chapter as an attachment (cutting and pasting and reformatting from an email is a time-consuming pain) and I'll critique the first couple of pages.
Please format your submission as specified at the front of this post.
Please include in your email permission to post it on FtQ.
And, optionally, permission to use it as an example in a book if that's okay.
If you're in a hurry, I've done "private floggings," $50 for a first chapter.
If you rewrite while you wait you turn, it's okay with me to update the submission.
© 2009 Ray Rhamey