---

But first, have a laugh today.
Check out my book on Authonomy
—if you like it, register and back it.
---
But second, sign up for the "Friends of FtQ NewsNotes"
Email me
with a "Yes" and your first and last name.
---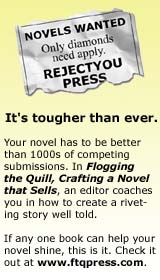 My book, Flogging the Quill, Crafting a Novel that Sells,
is now available for pre-order at
Amazon.com
. I should be shipping within in a few weeks, and early orders will be tremendously helpful.
---
The Flogometer challenge:
can you craft a first page that
compels
me to turn to the next page?
Caveat:
Please keep in mind that this is entirely subjective.
Note: all the Flogometer posts are here.
What's a first page in publishingland? In a properly formatted novel manuscript (double-spaced, 1-inch margins, 12-point type, etc.) there should be about 16 lines on the first page (first pages of chapters/prologues start about 1/3 of the way down the page). Directions for submissions are below.
Some homework. Before sending your novel's opening, you might want to read these two FtQ posts: Story as River and Kitty-cats in Action. That'll tell you where I'm coming from, and might prompt a little rethinking of your narrative.

---
Liz's first 16 lines:
Anna Huntington was dead set on burning one more terrorist. Her latest mark, Fareed Baraday, had alluded her capture long enough. The CIA had terminated their interest in the Al-Shoka dynasty at the time of his grandfather's death.

After swiping her clearance badge through the security slide, she slipped into the large storage building, north of Washington D.C. The warehouse housed records government records, including those from Langley.

The crumpled piece of paper she gripped in her hand held the location of the file box she wanted -- written in shorthand by her source inside the agency. Funny how computer records could be made to disappear for techno-amateurs like her, but paper inside boxes inside warehouses lived on forever.

The money trail kept leading her in circles, but always back to Italy. As a Certified Public Accountant and now, Special Treasury Agent for the Office of Foreign Asset Control, she knew her general ledgers and she could smell a trail of money no matter how stale the scent. Money still flowed. For a dead man, Baraday seemed to be quiet wealthy.

Baraday was better than most. It had taken her awhile to realize he'd had help. Important help that led to another smelly trail inside the government, a slippery trail that she (snip)
Exposition put the brakes on for me
Some readers like lots of setup at the opening of a story, but not me, even though the writing is solid. And, interestingly, just about all of this same information comes a little later, and is doled out in a good scene. This is an example of the "throat-clearing syndrome," where writers tell us stuff they think we need to know. In my view, it's much better to let the reader
discover
what she needs to know.
I'll point out to Liz that it's "eluded," not "alluded" here, and then post what I think would be a better starting point, lifted from the narrative a few pages on (although tightened considerably). And you get a better feel for voice.

Anna Huntington ripped open the box. She caught one glance at the paper on top before she heard a sound behind her.

She whirled.

"That case information is classified," David Freeman said. The CIA agent's voice echoed in the vast storage vault.

He leaned against a shelf, hands shoved inside his pockets. His shoes were spotless and shiny, but his eyes were dark and dangerous.

Anna fumbled inside the pocket of her skirt. She flashed her badge. "This is agency business, Freeman. I've every right to be here."

Her fingers wavered and her arm bobbed up and down. Freeman didn't even look at the badge she held out. Probably couldn't even read her identification the way she shook.

"Treasury?" he said with a hint of disdain. "Ms. Huntington, I've eaten three agents for breakfast this morning. Don't think that badge means a rat's ass to me."

"You're not above the law, Freeman." Anna crumpled. She must look like a mouse up against a mountain lion.

"I never said I was, but there are unwritten rules in my profession and you don't have a clue how (snip)
Comments, anyone?
For what it's worth.
Ray

---
Tips & Subscriptions
Your generosity helps defray the cost of hosting
FtQ
.
---
Public floggings available.
If I can post it here,
send 1st chapter or prologue plus 1st chapter as an attachment (cutting and pasting and reformatting from an email is a time-consuming pain) and I'll critique the first couple of pages.
Please format your submission as specified at the front of this post.
Please include in your email permission to post it on FtQ.
And, optionally, permission to use it as an example in a book if that's okay.
If you're in a hurry, I've done "private floggings," $50 for a first chapter.
If you rewrite while you wait you turn, it's okay with me to update the submission.
© 2009 Ray Rhamey