---

But first, have a laugh today.
Update on my Authonomy experience: a fan of my story contacted a publisher's editor and convinced her that she really should read it. The manuscript is now on an editor's desk. Internet=small world.
Check out my book on Authonomy
—if you like it, register and back it.
---
But second, sign up for the "Friends of FtQ NewsNotes"
Email me
with a "Yes" and your first and last name.
---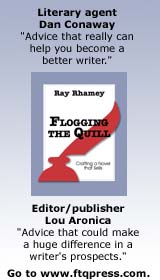 My book, Flogging the Quill, Crafting a Novel that Sells,
should be ready for shipping
May 1
. You can sign up to be notified of availability at
Amazon.com
.
---
The Flogometer challenge:
can you craft a first page that
compels
me to turn to the next page?
Caveat:
Please keep in mind that this is entirely subjective.
Note: all the Flogometer posts are here.
What's a first page in publishingland? In a properly formatted novel manuscript (double-spaced, 1-inch margins, 12-point type, etc.) there should be about 16 lines on the first page (first pages of chapters/prologues start about 1/3 of the way down the page). Directions for submissions are below.
Some homework. Before sending your novel's opening, you might want to read these two FtQ posts: Story as River and Kitty-cats in Action. That'll tell you where I'm coming from, and might prompt a little rethinking of your narrative.

---
A quick look at a redo
One of last week's floggees,
Kieron
, put a revision in the comments. It was a definite improvement, but I still saw things to suggest. The first two paragraphs of his new opening:
Scuba International's roving journalist Michael O'Sheen shoved his way past beggars and traders at Male's flea-market. His boss's warning still rang in his ears: Get a decent story, or you're out.

Ready to pounce on anything that'd make said story, he scanned the stalls. Was about to say Feck It when he noticed a table set back from the others. He sidled up. Rummaged through a wooden bowl and spotted a set of padlocks tangled in wire. He caressed them, peered closely. His heart skipped a beat. The trader grinned, his gold fillings glinting from near on every tooth.
Better, but could be tighter, and the first line is all author, no character. I think the reader can figure out if the guy is a journalist (and "roving" isn't really needed) if a rewrite went something like this—and I've tightened the second paragraph):

The warning from Michael O'Sheen's boss still rang in his ears—"Get a decent story, or you're out."

He shoved his way past beggars and traders at Male's flea market, ready to pounce on anything that'd make a story for Scuba International. Was about to say feck it when he spotted a set of padlocks tangled in wire. He caressed them, peered closely. Those engravings . . . He scowled to keep his excitement from showing. Couldn't resist losing the heart-skipped-a-beat cliché.
---
Now, on to Jovan's first 16 lines—she tells me that she has never written before:
I was almost caught this time. I'll have to remember that The People wake before dawn on the days the alarm rings. My name is Winifred Abigail Mary Alice Winthrop, but you can call me Baby. I am a master of illusion and escape, part-time philanthropist, a poet, a dreamer, and of course, a chinchilla.

I hate to be braggardly, but I happen to be one of the most intelligent rodents I have ever met. I was born in a science classroom with a brother and a sister, and had the good sense to make the most of it. During a school break in my early child hood, I had the exquisite fortune to be left in the care of The Reading Teacher, where I mastered the art of reading. My poor siblings were more interested in quarrelling over the dust bath. I, however, was enthralled with my new skill, and made it my personal mission to absorb as much information as I could.

A couple of weeks later (which is really quite a long time according the Standard Chinchilla Calendar), we were returned to the science classroom. I was overjoyed when I realized that I could understand the material that was being taught, and surprised myself by even having a few ideas of my own. My mother would sometimes wake during 8th grade chemistry (my favorite class), and box my ears for staying up so late in the day, but it was always worth it.

I was about six weeks old when I learned, quite by mistake, that I could squeeze easily through (snip)
Lots of charm, little tension
Now, since I've written a novel narrated by an animal character, I'm an easy target for something like this. The voice is quite nice and fresh, too. And the writing is good. The opening line raised a good story question, and the character introduced herself in a fun way.
But then we slipped into backstory. A lot of telling goes on. Even though interesting, we've left the story behind, and, potentially, readers. It could be that a middle-grade reader would be captivated enough to carry on—but it would be much better to captivate them with story. The story involves a burgler about to invade the home of Winnie's owner's home, and there could be a good adventure coming. But the following pages told a lot of throat-clearing backstory before getting to the good stuff. Believe me, Jovan, the story of the character's birth and education really isn't necessary in the opening of the story, and probably not at all.
There are very few, if any, nits to pick in the writing, which I liked a lot. Rather than do that, I'll give you a piece from later in the manuscript which, added to the first paragraph above, would make 16 lines.

It has been my good fortune that my home is lined with news paper daily. It is also my good fortune that the Girl is a tad rushed, and tends to leave large portions of news stories intact. It was upon reading one particular story about a thief whom the authorities could not catch that my interest was peaked. Now, I know all about thieves, I have siblings after all. And there is one thing that I just can not tolerate, and that is a thief. But this Human thief was even worse than my poor siblings. This person was stealing works of art. From people's homes! Now that is one bad Human. It just didn't rest well with me. The only clue the police had was that there was a white van seen in the area of each burglary the day before.

One night as I was sitting on my high perch and enjoying a hidden snack The Girl left for me, I heard a commotion outside of the window beside my cage. We chinchillas have amazing hearing, and I distinctly heard two deep voices in a hushed but heated exchange.

"I did my part, now you get me what I want," whispered Angry.
Comments, anyone?
For what it's worth.
Ray

---
Tips & Subscriptions
Your generosity helps defray the cost of hosting
FtQ
.
---
Public floggings available.
If I can post it here,
send 1st chapter or prologue plus 1st chapter as an attachment (cutting and pasting and reformatting from an email is a time-consuming pain) and I'll critique the first couple of pages.
Please format your submission as specified at the front of this post.
Please include in your email permission to post it on FtQ.
And, optionally, permission to use it as an example in a book if that's okay.
If you're in a hurry, I've done "private floggings," $50 for a first chapter.
If you rewrite while you wait you turn, it's okay with me to update the submission.
© 2009 Ray Rhamey