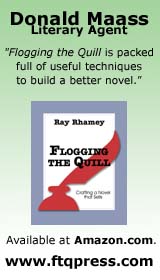 Here are all of the entries from the win-a-free-copy-of-Flogging-the-Quill-with-your-first-line contest, in no particular order.
In judging them, the main criteria is this: does it compel you to read the next sentence? Do you feel the promise of a story?
A neat stone farmhouse squatted beside the massive barn, its garden tucked under a thick blanket of snow.
Alek knew a dragon's roar.
He loved to hear them scream before they passed out from the pain.
Hooves pounded the dirt road and shouts filled the air.
Jereman was dead.
I pushed through the swinging door of the bar and stood in the gloom for a moment, giving my eyes time to adjust.
If Queen Bee Abigail Withers called me a wannabe loser one more time I was gonna let her have it, even if it did mean I'd have to kiss a pig.
If I had been a good child, none of this would have happened.
Nicky's Pa had only ever struck him once, when he'd caught him sneaking a look at the very map Nicky was now unfolding.
I could smell Texas coming a hundred miles before we crossed the border: dry grass, gasoline, and heat.
A brilliant January sun burned high in the cloudless blue, illuminating snow topped headstones arranged in exacted rows, as if death were an orderly business.
An old man ran across the desert.
Sniff, armed only with a bowl of stew and a lantern, stepped into the dungeon and prayed it would be the last time.
The first time I ever saw him, I was still a child of maybe seven or eight.
Today was the day, he could just feel it.
All she could see was red, it ran between her fingers and soaked the ground as she tried to cover the hole.
Blue is no longer my favorite color," I declared.
When I turned seven, I made only one wish—to find a way into the basement my grandparents always kept locked.
When she looked through her apartment door peephole and saw the manicured finger tapping on the digital watch, Janey blinked, swiveled her head to look at her wall calendar--where today's date was encircled with optimistic pink--and knew that she was in deep trouble.
The day I met the genie, the boss emailed me demanding a meeting at eleven to discuss a matter of 'great importance'.
Introducing her date by the wrong name all evening didn't win her anything but a ticket straight back to single town.
With the kris's blade inches from Neela's breasts, Shikari willed a small opening in his vastu-shield, and watched, smiling, as Neela's eyes widened at the sight of its edge shimmering in mid-air.
Beguiled by his enemies of the distinguished career he'd anticipated on Earth and emboldened by his lust for retribution, former Senator, Sean Cassat, disembarked at South City Air and Spaceport, Mars.
My name is Brea.
I see them now in mirrors, on darkened windows, in waking dreams---all the faces I have painted.
Waiting at the hospital entrance, I tapped the tickets on my hand.
The cold steel speculum entered her body as a punishment for her sins.
I lounged in the front passenger seat of Dad's pimped-out quad cab, eating chocolate mini-donuts while scanning the skies for a hawk to trap.